Treat your child to a week of gluten freedom at a special summer camp, Camp Celiac!
NOTE: Registration starts February 1st! The camp days have been reduced – see information below from their website.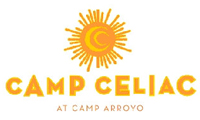 CAMP CELIAC
In northern California at Camp Celiac, "campers, counselors, and junior counselors eat delicious gluten-free food and enjoy traditional camp activities such as a ropes course, rock climbing, zip-lining, boating, swimming, archery, arts and crafts, skit night, and outdoor sports. Three meals a day without having to ask if any of the foods are gluten free is life changing for many campers and staff!" Ages 9-15.
2014 Camp Dates: Due to high demand for space at Camp Arroyo, we have to reduce the length of Camp Celiac at Camp Arroyo in 2014. We will still have two sessions for campers ages 9 to 15:
Session One: Monday, July 21, 2014 through Thursday, July 24, 2014
Session Two: Thursday July 24 through Sunday, July 27, 2014.
Counselors and Jr. counselors (ages 16 and 17) will stay for both sessions: Monday, July 21, 2014 through Sunday, July 27, 2014. Thus, we will have fewer available counselor and Jr. counselor spaces. On-line registration will open on February 1, 2014.
Camp Celiac recognizes The Taylor Family Foundation for again hosting our camp at Camp Arroyo. The Taylor Family Foundation's mission is to preserve the wellness and enhance the quality of life for children in Northern California with life-threatening and chronic illnesses, disabilities, and youth at risk through unique therapeutic experiences and support. For more information, please visit www.ttff.org.
Please consider a donation to The Taylor Family Foundation and to Camp Celiac! Donations to Camp Celiac cover many items specifically for Camp Celiac, such as crafts, medical supplies, DJ's, additional activities, our camp program's general and medical insurance, etc. Donations to The Taylor Family Foundation cover the substantial food, maintenance, and activity costs for all of the camps at Camp Arroyo (www.ttff.org).
To register:
Registration Priority: The by-laws of The Taylor Family Foundation require that we give priority to campers from Northern California.
Campers from Northern California: All campers from Northern California who register between Feb 1st and Feb 14th will be given equal priority if all four registration steps (see below) are completed by February 14 (and received if paying by mail); i.e. there is no advantage to registering on February 1st rather than February 14th. After February 14th, available space will be allocated on a first-come, first-serve basis after all four registration steps are completed (and received if paying by mail). At all times, space availability will depend, in part, on the camper's age and gender since cabins are segregated by sex and age. Please see "Camp Watch" for status regarding available space vs. wait list only.
Campers from Outside Northern California: Please complete the registration instructions below. Priority will be based upon date of completed registration and sex/age availability. No spaces will be offered to campers from outside Northern California until mid March, and then only if space is available.
If you register by FEB 14, we will advise you of your camper's registration status by MAR 5.
Campers can indicate which of one of two sessions they prefer to attend. To ensure maximum availability for new campers, campers may sign up for ONE session only.
For more information about how to sign up for this camp, visit the registration page at CeliacCamp.com.