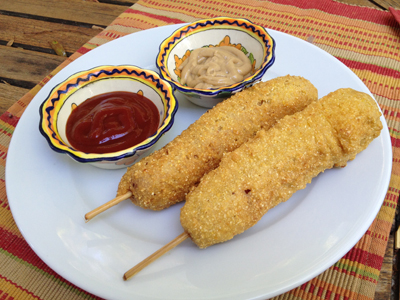 A seven year old kid that has never had a corn dog? Hard to believe, but even the gluten-free corn dogs on the market have eggs in them, which my daughter is allergic to. So, once again, necessity is the mother of invention! Corn dogs were on the menu at her camp this week, and I just couldn't let my daughter be left out! Fryin' up corn dogs at 8 am isn't my normal morning routine, but the end result was worth my kitchen smelling like fried oil for the rest of the day. These corn dogs were so yummy, we even shared one for breakfast!
Gluten-Free Dairy-Free Egg-Free Corn Dogs
Ingredients:
2 tablespoons sugar (for taste – optional)
Ener-G Egg Replacer prepared to the equivalent of 3 eggs (or use 2 real eggs if you can have eggs) (also, I'm not even sure you need any eggs or egg replacer at all – it might work without it but I didn't try that!)
1/2 cup Earth Balance Soy-Free Buttery Spread, melted (or use real butter if you can have dairy)
3/4 cup water, more or less
6 to 10 hot dogs, depending on the size
Oil for frying. How much oil you need is going to depend on what kind of pan you are using. If you have a deep fryer, lucky you. I do not, so I used a lot of oil in a pan big enough to lay a corn dog across.
Skewers
Directions:
Mix Cornbread & Muffin Mix, sugar, melted butter and egg replacer together in a bowl – it will be extremely thick and dry.
Gradually add water until the batter becomes uniform, but is still rather thick.
It is best for hot dogs to be at room temperature and dry. Test the batter by dipping the end of a hot dog into the bowl to see how it sticks. If it is too thick, add more water.
When the batter has reached the right consistency, pour it into a tall glass.
Heat oil. I don't have a thermometer to test the oil, but I read that you want frying oil to be at the point where a chunk of bread dropped in will brown in 60 seconds. I used this method with a chunk of gluten-free bread.
Insert a skewer into each hot dog, almost to the end. If the skewer is too long, cut or break it off to leave just a small handle.
Dip the hot dog into the tall glass of batter. You may have to swirl it around a bit to get it evenly coated. Pull the coated hot dog out of the glass and fill in holes with batter if needed with a wooden spoon.
Immediately put in the frying oil until browned. Use tongs to pull the corn dog out and set on paper towels.
Batter may get thicker as it sits. Add more water as needed.
Serve hot or let cool and then freeze.