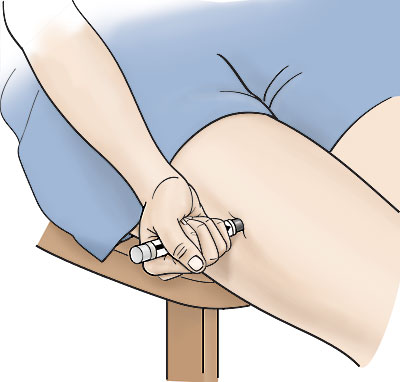 I finally used the Epi-Pen on my daughter after eight years of managing her food allergies. I used it because I had to. I used it because she asked me to.
We were in Mexico, at a place we visit every year. My daughter is extremely responsible about her food allergies, and carries her "kit" (containing two Epi-Pens, Benadryl and asthma inhaler) with her everywhere she goes, even to the pool. I also had an extra Epi-Pen with me on the trip, so we had three in our possession. The story of BJ Hom is always in the back of my mind when we travel to Mexico — it was there that this young man had an anaphylactic reaction to peanuts but the family did not have an Epi-Pen with them (he had only suffered from hives in the past so they didn't think it could get more serious than that). We are prepared for an accident in case our vigilance about reading labels, asking questions, and avoiding uncertain foods fails.
On that afternoon at the pool, she selected a popsicle out of a popsicle cart. It had ingredients on the label, both in English and in Spanish. It was a coconut popsicle, containing coconut, cream, milk, sugar, and some additives. Nothing she hadn't eaten before. Within minutes she came to me and told me that she didn't feel right. As she was telling me, a large hive appeared on the skin in the lower corner of her mouth. I knew this wasn't good. Her face had lost its color and dull, dark streaks appeared under her eyes. She said her throat felt "bumpy." We pulled the Benadryl out of her kit and she took one, and then another. Hives popped out on her stomach, and then on her back.
That day, by our good fortune, my father was hanging out at the kid pool with us. He is a retired pediatrician and I was so glad he was right there at that moment. I showed him the hives. He suggested we head back to the room where he had prednisone in his medicine bag. Prednisone is a corticosteroid that can help reduce swelling caused by allergic reactions, but it is not an immediate treatment since it comes in pill form and takes a little while to have an effect. When we arrived at the hotel room, he gave her a dose of prednisone, but as she held on tight to her epi-pen kit, she said to me, "Mom, I want the shot."
I looked at my dad and he and I both nodded – let's do it.
Now, I have to admit that for all of these years I have had a fear of giving the Epi-Pen. I know my allergy mom friends have done it, I know it saves lives, my pediatrician has scolded me for not giving it in a couple of close-calls… I have no explanation for my anxiety about putting this shot in my daughter's leg. (Perhaps I was scarred by the giant epinephrine shot scene in Pulp Fiction? But it did save Uma Thurman's character's life, so…)
I asked my dad to give her the shot. I sat on a bed next to my daughter, while he was on the other side of her and stuck the Epi-Pen in her leg. She was looking at me, away from the shot, and said, "That was it?" It felt like barely a pinch to her. Within minutes, the hive on her face disappeared, her color came back and she was breathing easy. She was a little worried about her rapid heart beat, but we assured her that it was the medicine taking effect and that was normal.
Normally when you give an Epi-Pen, you are advised to go to the hospital or call 911. Sometimes one Epi-Pen isn't enough, or it is given too late to reverse the symptoms. According to the Epi-Pen website "Get emergency medical help right away. You may need further medical attention. You may need a second EpiPen Auto-Injector should symptoms persist or recur. More than two sequential doses of epinephrine for a single episode should only be administered by a healthcare provider."
Because we were in Mexico, and we had another Epi-Pen, and my dad was there, and she already had prednisone and benadryl in her system, we monitored her at the hotel. And she was fine. And then I let myself cry.
Since then, her anxiety has risen to a new level. She abstained from eating dinner, even a bowl of rice, while our family was out at a restaurant with friends one night. She refused to go to a volleyball tournament because I was not the one driving the carpool and I wouldn't arrive until later. Luckily, the mom driving the carpool was a trained nurse and carries an Epi-Pen, but even that almost didn't convince her. So, this is a new chapter in our lives — the Anxiety Chapter. She strives for independence and freedom, but is weighed down by her fears. I wonder how long this chapter will last.