"It's all in your head" is the response more than one patient has received from a doctor after hearing about the patient's health problems. I have heard this story from people who write to me looking for answers, and the fact that a doctor could be so dismissive of one's health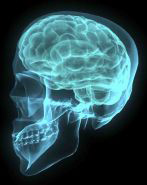 complaints is frustrating and upsetting. Those that write me an email like the one I am sharing below have already taken the steps to find out what is wrong, and have discovered that by cutting out gluten, many if not all of their symptoms have resolved. I wonder how many others end up believing that it is in their heads, that there is no cure for their ailments, no hope to feel better. Gluten can indeed affect the head — with anxiety, depression, migraines, seizures, ADD and OCD, and even schizophrenia, but I doubt that's what those doctors meant.
Here is an email I received recently:
"I'm sure you're extremely busy, so I understand if you cannot respond to this email immediately, but I am desperate and would love your advice. I'm 27 years old.  I endured some abuse about a year into my marriage. I've been divorced about a year and a half, so my life is in a calm, peaceful place now. My body, on the other hand, has been rebelling.

I was suffering night sweats, joint pain, belly bloat, terrible gas, and recurrent mouth sores that absolutely cover my mouth making it impossible to eat. I went on a gluten free diet about 8 months ago, and I found relief from almost all of those symptoms. If I go back on wheat, the symptoms return. My doctor tested me for celiac disease and the results came back negative. I had been on a gluten-free diet for quite some time I thought it was possible that could've affected the outcome of the blood test, but my doctor refuses to look into the matter any further. She blames my problems on anxiety and post-traumatic stress. I agree that stress is a factor, but is it possible stress sparked the digestive issues? I've had problems with IBS, specifically constipation, since the day I was born, and have also been lactose intolerant all my life. So digestive complications are nothing new.

She acts like it's all in my mind, which makes me feel so defeated. I don't know where to go from here, but as someone with so much knowledge on the subject, I would value your advice more that I can tell you."
In my answer to her, I told her that it is not in her mind, but rather her stomach! I also told her that her doctor sounds dismissive and ignorant and that she on the the other hand, sounds like she knows exactly what is going on. If she feels better off the gluten, that is her proof.
Celiac disease and gluten intolerance can indeed be triggered by stress, although it sounds like she already had symptoms long before. The stress could have turned it up a notch, or due to her radical lifestyle change she may have altered her diet to have more gluten in it, thereby making her symptoms worse.
"Where do I go from here?" she asked at the end of the email. Where do you go from here? You stay gluten-free if you feel better, you tell people you have a gluten intolerance or sensitivity or gluten allergy or whatever you want to call it, and you say it with confidence! It really doesn't matter what anyone else thinks about it — do what is right for you.
I wish this reader well, and I hope that her email touches someone else out there struggling with the same obstacles. If anyone else has advice for those that are wondering if it's all in their heads, please add your comments!