A baby diagnosed with GERD, a tired mother who kept fighting for answers, and a new beginning. Today's post is from Cherie, a reader of this blog who originally shared her story with me via email. She willingly agreed to share her story publicly, knowing that her difficult journey could help others to avoid the pain that her daughter and her family went through. Thank you Cherie.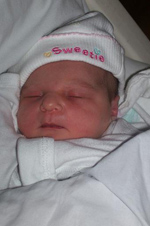 My name is Cherie. In 2007 I gave birth to our second child, a beautiful baby girl. She came quickly and was just perfect. Little did I know that this would begin an often difficult and heart wrenching journey. It started right away. Because of a surgery I had when I was younger I was unable to breastfeed my babies. So the nurse gave me some formula for Abigail, but she would not eat it. I should have know something was up — our son, born less then 2 years earlier, ate his first bottle like nothing. But not Abigail. She just would not eat. She just wanted to sleep. We tried so many different things to get her to drink. Finally a nurse decide to try putting the formula in a little medicine cup and putting drops on her lips. Eventually, she started drinking, but we ended up staying in the hospital for 5 days.
When we got home, her feeding issues continued. She never wanted to eat. And when she did she would cry and scream. She would violently spit up. She would throw up. Off to the pediatrician we went. She was diagnosed with GERD. Then put on Zantac. It did not really help. She was still crying and screaming, when I could get her to eat. It was so difficult for me. I was a stay at home Mum, and had Connor who was not even 2 yet. My husband worked a lot and I felt so overwhelmed with this little one who would just scream for hours on end. Abigail needed to be constantly held. She never, I mean NEVER, slept. She would sleep for 20 minutes to half an hour at a time, even at night time. She never napped. When she did sleep she would reflux in her sleep and start gagging and often turned blue from everything settling in in her mouth and throat. I was scared to death to let her sleep in her room because I thought she would choke to death. We did all the typical things: raised her bed, tried to tuck her in so she would not slide down. Nothing really helped.
Finally, after going to the doctor for the millionth time, I took her to the ER. CONTINUE READING »