Pioneering gastroenterologist, Rodney Ford, MD from New Zealand will be the featured speaker at a special Gluten Intolerance of Marin event on Tuesday, September 30 at 6:00 pm.
Dr. Ford began investigating adverse reactions to gluten 30 years ago when a gluten-free diet was prescribed rarely and only for a then-little understood condition called celiac disease. Decades before his medical colleagues recognized the prevalence of celiac disease, Dr. Ford suspected it as the culprit causing his patients' symptoms, including eczema, dermatitis, rashes, bloating, sore tummy, abdominal pains, diarrhea, constipation, irritable bowel, gastric reflux, heartburn, headaches, migraine, tiredness and low energy. He was also an early-adopter of trying a gluten-elimination diet to treat a variety of complaints presented by his patients that seemed unrelated to celiac or gut health. He coined the term "gluten syndrome" to describe the array of symptoms affecting the gut, skin, brain and other body systems that are caused by gluten.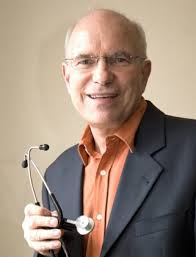 "The main food culprit is gluten! I came to this conclusion after seeing tens of thousands of sick children. I observed that many of these children responded quickly to a gluten free diet but they did not have celiac disease. This fact has launched me into the realm of gluten intolerance," says Dr. Ford.
Internationally recognized as a dynamic speaker, Dr. Ford is coming to Marin to speak on Is Eating Gluten Worth the Risk?
GIG of Marin will be reaching out to the wider SF bay area community about this special opportunity to hear Dr. Ford. Our event will feature gluten-free hors d'oeuvres, wine, and vendors focused on gluten-free living all in the lovely Cascade Room at the Mill Valley Community Center.
EVENT DETAILS:
Date: Tuesday, September 30
Time: 6:00-9:00 pm
Location: Mill Valley Community Center, 180 Camino Alto, MV, 94941
Tickets: $35 if purchased before the event, $45 on the day of the event. Buy tickets here.
Includes gluten-free hors d'oeuvres, wine, and samples.
For more information, call 415-322-8105 or email glutenfreemarin@yahoo.com
More about Dr. Ford:
Dr. Ford graduated with honors from the University of New South Wales, Sydney in 1974 (MB. BS). He is fellow of the Royal Australasian College of Physicians in pediatrics (FRACP). He has studied food allergy/ intolerance problems in New Zealand, Australia and the United Kingdom. Formerly, Associate Professor of Pediatrics, Otago University, New Zealand, he directed the pediatric allergy and gastroenterology clinic at Christchurch Hospital, for more than 15 years. He now directs the Children's Clinic and Allergy Centre, in Christchurch, New Zealand.