THIS INFORMATION MAY BE OUTDATED. PLEASE SEE THE NEW 2013 LIST.

This is a quick list of allergen-free Halloween candy for 2011. This list includes candies that do not contain gluten or the top 8 allergens (wheat, milk, soy, eggs, peanuts, tree nuts, fish or shellfish) as an ingredient. I have included the allergen statement if it mentions any of these.For the complete listing of allergens and statements see the Halloween Candy List Gluten-Free Allergen-Free 2011. For a quick list of candies that are gluten-free, see the Gluten-Free Halloween Candy Quick List 2011.
Note: Please, as always, double check ingredients. This list is meant as a guide only.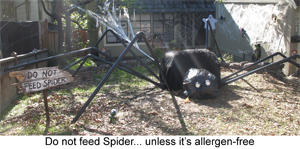 NOTE for bloggers/organizations/media: Please do not reprint this list without my permission. Linking to it, however, is just fine and dandy! Printing is encouraged for personal use or for schools, etc. I appreciate your consideration of my work.
ANGIE'S ARTISAN TREATS
BAZOOKA (located in New York, NY 800-489-9149)
Ring Pops, Push Pops, Baby Bottle Pops
CE DE CANDY (located in New Jersey 908-964-0660)
Smarties (only USA, not Canada), Giant Smarties, Mega Smarties, Candy Money, Love Hearts, Smarties in a Pouch, Tropical Smarties, X-TREME Sour Smarties, Easter Smarties, Smarties Parties, Smarties Double Lollies, Smarties Mega Lollies, Smarties Pops, Giant Smarties Pops, Candy Necklace

Check if it has been re-bagged for allergen info. If the UPC number on the packaging begins with "0 11206″, you can be assured that the product was packaged in one of Ce De Candy's manufacturing facilities, and is allergen-free
FARLEY'S AND SATHERS (located in Minnesota 888-247-9855)
Brach's Candy Corn and Gummi Candy Corn(not flavored candy corns)

"Packaged on equipment that processes milk, egg, and soy. Milk, egg, wheat, peanuts, tree nuts, and soy may be present in the manufacturing or packaging area."

Brach's Mellowcreme Pumpkins

"Packaged on equipment that processes milk, egg, and soy. Milk, egg, wheat, peanuts, tree nuts, and soy may be present in the manufacturing or packaging area."

Heide candies – Jujyfruits, Jujubes, Red Raspberry Dollars, Red Hot Dollars Wild Cherry, Heide Gummi Bears
Jujyfruits, Jujubes

"Packaged on equipment that packages products containing traces of milk, wheat, egg, peanuts, tree nuts and/or soy protein."

Super Bubble and Super Bubble Blast

"Manufactured in a facility that manufactures products containing traces of eggs."

Trolli Gummi Bears, Trolli Sour Brite (Frite) Crawlers

"Packaged on equipment that packages products containing traces of milk, wheat, egg, peanuts, tree nuts and/or soy protein."