Pumpkin seeds are delicious and packed with nutrition, having one of the highest protein contents of any seed or nut. They are also a good source of minerals, fiber and healthy omega-3 oils. Though most nut-allergic individuals can tolerate seeds, the seeds are often made in a facility with nuts, presenting the risk of cross-contamination.
I like to make my own pumpkin seeds when I carve pumpkins in October, and if I'm cooking a butternut squash, I'll toast those seeds too, but I was looking for some safe pumpkin seeds for the rest of the year for my daughter who is allergic to nuts.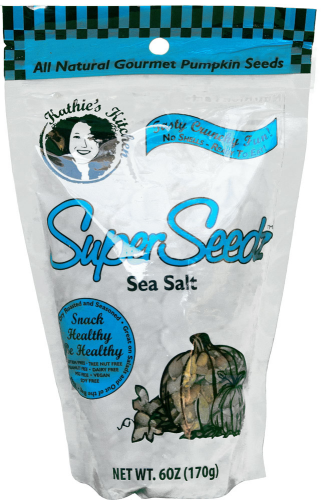 In my search, I came across SuperSeedz by Kathie's Kitchen. I love the taste of these pumpkin seeds! I am addicted to the Sea Salt ones, but all of the flavors are fun and delicious: Coco Joe, Curry, Really Naked, Super Spicy, Somewhat Spicy, Sugar & Cinnamon, Tomato Italiano. All flavors are naturally vegan, gluten free, tree nut free, peanut free, dairy free, MSG free and soy free!
I used SuperSeedz for two recipes in an article I wrote for Gluten-Free Living magazine called Aw, Nuts: Balancing a Nut-Free, Gluten-Free Diet.
So, would you like to win some seeds? Kathie has agreed to give away four 6-ounce packages of pumpkin seeds PLUS a limited edition SuperSeedz pumpkin seed shaker to one lucky winner! If you would like to enter, simply leave a comment telling me why you'd like to win! Contest ends on Thursday, July 18 at 5:00 pm PST. Good luck!