Allergen-Free Summer Treats Guide 2009
Posted on June 9th, 2009 by Alison
Read 7 Comments - Add Your Own »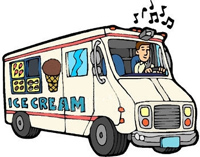 Do you love or hate the tinny tune of that ice cream truck cruising through your neighborhood or past the local park? At some point you are going to give in to your crying, begging children. It is best to learn which treats are okay for those everybody-else-gets-to-have-one-so-why-can't-we-have-one-too ice cream truck moments. After all, you don't want to be the Mean Mom — at least not in public!
Every ice cream truck is going to pack different treats, but fortunately there are always some that are just basically sugar, color and water. Not that I am a big fan of corn syrup or Red Dye #40, but once in a while I let my kids have a snow cone or frozen pop. If your child has an allergy to either of these ingredients, steer clear of commercial popsicles. Hopefully in that case, they can opt for an ice cream bar (be careful of nuts!)
In my fantasy world, an ice cream truck stocks real fruit juice popsicles, organic non-dairy ice cream bars and shaved ice with natural flavorings and colorings. Don't think that's going to happen anytime soon, but at least you can buy some healthier options at the store, or make your own.
TREATS YOU CAN BUY

Popsicles
Many commercial frozen pops are gluten-free and free of the top 8 allergens. (They do however contain corn syrup, which is a problem for individuals allergic to corn, and food coloring, to which some kids are sensitive.) A page of Popsicle brand treats that are free of the top 8 allergens can be found here: Popsicle (always check the ingredients before consuming).
Fruit Bars
For a healthier option, look for bars made with fruit juice that contain no corn syrup, like Breyer's Pure Fruit bars.
Snowcones
Most snowcones that you find at fairs and amusement parks are gluten-free and free of the top allergens. Usually they are made with crushed ice and a flavoring syrup (corn syrup). Same with packaged snow-cones.
Dairy-free ice cream treats
Most ice cream treats, including Fudgesicles, are off-limits for kids with dairy allergies, but there are some dairy-free options:
Gluten-free ice cream cones
Use your favorite ice cream or sorbet to make ice cream cones at home, or take your own gluten-free cones into your local ice cream shop. There are lots of cones to choose from (click to see ingredients):
TREATS YOU CAN MAKE

Frozen juice pops
Put any kind of fruit juice into fun pop molds – use white grape juice or apple juice if you don't want to stain their shirts! Mix juices to create a new flavor. This is a great option for kids who can't have corn syrup or food dyes.
Frozen fruit pops
If you want a chunkier, thicker pop, put frozen fruit in your blender, add liquid and freeze. The liquid could be juice, milk, coconut or other non-dairy milk.
Smoothie pops
Make a fruit and spinach smoothie and put it into the pop molds. Yes, your kids will eat frozen spinach!
Snowcones and slushes
Make your own snow cones with snow cone supplies! Otherwise, you can make a "slush" or "slushie" in your blender by blending ice with juice. Serve it in a fun cup with a straw or spoon.
Dairy-free ice cream treats
Any more summer treat ideas or products? Let me know!