Vitiligo and gluten intolerance
Posted on December 14th, 2010 by Alison
Read 209 Comments - Add Your Own »
Vitiligo and celiac disease is a topic I have been meaning to write about for a while now. I have both, and believe there is a connection between vitiligo and gluten intolerance. I have found out more on this topic from the readers of this blog than any other source out there, and hope that this incredible information reaches those with vitiligo who are told there is no known cause.
Vitiligo is a skin disorder characterized by smooth, white patches on various parts of the body that occur due to loss of pigment. This loss of pigment often starts on the hands, feet and face, and then can progress to other parts of the body. Hair can turn white where there is a vitiligo patch. Vitiligo is not physically painful, but can be quite emotionally devastating as it affects one's appearance.
The picture below is of me as a child with vitiligo on my face. It appeared symmetrically below my eyes, but asymmetrically on my legs — 8 spots on only one side of my body.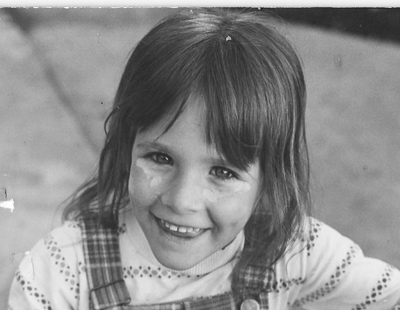 The spots on my face re-pigmented with the treatment at that time (1973) which was psoralen pills and UV light treatments at Stanford. The spots on my legs remained into adulthood, never getting any bigger or smaller. When I was diagnosed with celiac disease in 2002, I didn't think about the vitiligo, but over the past years since being on a gluten-free diet, the patches have begun filling in with spots of pigment of various colors, even some darker than my original skin color. I was always self-conscious about the white patches on my legs as a child. Today, you can barely make out their outlines.

Vitiligo is an auto-immune disease, because the immune system attacks the pigment-producing cells of the body. It is thought that lack of folic acid and B12 could be a contributing factor to the onset and spread of vitiligo. Vitiligo has been associated with celiac disease, which causes malabsorption of vital nutrients, so it makes sense that these two conditions can coexist. Though studies have stated the relationship of the two autoimmune diseases, little or no information has been presented from an anecdotal point of view — what happens to the patient with vitiligo if they go on a gluten-free diet?

I have received many emails asking me if vitiligo will go away on a gluten-free diet. Because of these inquiries, I decided to ask celiac disease expert Peter Green about it when I saw him at a conference. He said that he has seen vitiligo reverse on a gluten-free diet if caught early enough. I also decided to follow up with some of the people that emailed me to see if anything had changed with their vitiligo since being on a gluten-free diet. I was astounded at what I found. Out of 8 people I emailed, 5 emailed me back. Of those 5, 3 people had seen the vitiligo reverse! Of the remaining 2, one had not tried a gluten-free diet, and one had not seen change with the gluten-free diet, but had also been diagnosed with dairy and yeast allergy, so perhaps there is more to eliminate from the diet before seeing a change. So, of 4 people who tried a gluten-free diet, 3 had positive results: 75%! Here is what they said:
Woman with vitiligo: "Yes, my pigment is coming back on my knees where I've had lesions since age 9 (I'm 38). I also have not had any advancing vitiligo lesions since I've been gluten free. I'm not currently doing any treatment, and my pigment is coming back slowly but surely on my legs, some on my hands, and a little on my shoulders. There doesn't seem to be any changes on my lesions on my abdomen or feet, however. As previously stated, I do have freckling on my
hands, which is surprising. The best part of all is that I feel so much better physically and mentally. I can't even think of consuming gluten . . . YUCK!"
Father of a child with vitiligo: "It has substantially improved. We finally found a physician who took this very serious, performed subsequent tests and found that due to her inflamed bowels she was not absorbing vitamins (she also has very short hair). In a very short time, with increased vitamin intake, gluten free everything has improved!"
Woman with vitiligo: "Yes the vitiligo did change. I think I remember telling you that it was not noticeable until I got a tan. Then portions of my upper thigh would not tan with the rest of my skin. When I was feeling my worst it spread to my upper back and shoulder in small patches. The upper thigh has not changed since my teens BUT this past summer I got a tan while planning my destination wedding and no patches on my back or shoulder! This is very exciting news since my wedding dress is backless."
Please, if any others out there have seen their vitiligo change on a gluten-free diet, leave a comment here. And if you have vitiligo and are reading about this connection for the first time, you should consider getting tested for celiac disease or gluten intolerance and going on a gluten-free diet. Even if your vitiligo can't reverse, the fact that you have this autoimmune condition means that you may have an intolerance to gluten and there could be damage being done inside the body.
I hope that my personal story and the comments shared by others will cause some of you out there to have an "Aha!" moment!
UPDATE: Articles I have found since writing this article in 2010:
Repigmentation of Vitiligo Lesions in a Child with Celiac Disease after a Gluten-Free Diet

Rapid Partial Repigmentation of Vitiligo in a Young Female Adult with a Gluten-Free Diet
Vitiligo and Autoantibodies of Celiac Disease
Vitiligo and Celiac Disease: Is There a Link?
Improvement of vitiligo after oral treatment with vitamin B12 and folic acid and the importance of sun exposure