How I react to gluten… what happens to you?
Posted on May 29th, 2011 by Alison
Read 354 Comments - Add Your Own »
Wonder what happens when a girl with celiac disease eats gluten? Read on!
There was actually a time that I wanted to eat gluten just to see what would happen to me. I had been gluten-free for many years, and I didn't know how my body would react. I also thought it would make for a good blog post! Well, here it is, but not intentionally. I have been "glutened" three times in the past year. I'm not talking about a tiny bit of cross-contamination — I accidentally ate gluten. And paid for it.
First there was the muffin incident, and although there was no obvious gluten, there is no doubt in my mind that there was a significant amount of it in that muffin.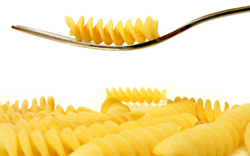 Months later came a lunch out with colleagues to an Italian restaurant. One of my colleagues ordered the "gluten-free pasta" that turned out to be not gluten-free. Oops. I found out after I had eaten one bite of her pasta. Just one bite.
And the last time was a few weeks ago, when I ate gluten at lunch. The owner of the restaurant believed something to be gluten-free, but it turned out to be an appetizer made of semolina (which is wheat). This time I ate with my colleague and nutritionist Sheila Wagner, who is gluten-intolerant, so it was interesting to note the differences in our reactions.
In all three instances I reacted almost the same way:
Anywhere from one to four hours after ingesting the gluten, I began to feel nauseous and my stomach started hurting.
The nausea got gradually worse until I ended up vomiting and having diarrhea.
After that I was practically comatose. I could barely walk and had an uncontrollable need to lay down and either zone out (I caught myself staring out the window and I had no idea how long I had been doing it), or go to sleep as though I have been drinking alcohol and need to pass out for a while until I sober up.
I fluctuated between feeling hot and clammy to feeling chilled and shivering. This combined with achy muscles made me feel as though I had the flu.
After sleeping, I came to and felt sober again, although one of the times I remained spacy for hours after, and even a little bit the next day.
Sheila reacted in a totally different way when we ate the same meal:
She had a headache by the time we left the restaurant and began to feel bloating that she has not felt in a decade.
She awoke at 3:30 am that night with a "blaring" headache, stomach ache, a little nausea and an elevated heart rate (like she drank a bottle of booze).
She couldn't go back to sleep and the headache got much worse. Her brain felt very slow, her bowels were also slow, and she had a low back ache and left neck pain.
She also had phlegm in her throat and sinuses.
She continued to have soft tissue and joint pain the entire next day and her headache persisted for about 24 hours.
All this from gluten!
In a way I feel lucky that my body gets rid of the gluten right away, so my symptoms don't persist into the next day like Sheila's did. I have heard from some of you who feel it for days, even weeks. If you've been gluten-free for a while, it would be interesting to hear what happens to you if you accidentally (or on purpose!) eat gluten.
How do you react to gluten?