A brief history of wheat and why it is making us sick
Posted on September 27th, 2010 by Alison
Read 74 Comments - Add Your Own »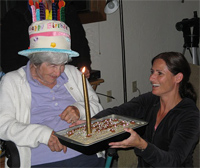 My grandmother just turned 98 years old. 98! She is amazing, still remembering intricate details about her life. She can still converse on any topic from the state of education to how many times Lance Armstrong has won the Tour de France. She's also totally up on the whole gluten-free thing, and recently she told me a memory she had from when she was a little girl.
She was in the kitchen where her grandmother and her grandmother's friends were gathered to bake and talk (my grandmother was raised by her Danish grandparents in South Dakota after her own parents died in the flu epidemic of 1918 when she was 6 years old — what that generation went through is incomprehensible). As they stood around chatting, my grandmother heard her grandmother say, "I like this new flour — it's got more gluten in it." Aha! Perhaps there is a history lesson here about why wheat is making people sick! (says the former history teacher)
People often ask me, "Why does it seem that suddenly everyone is intolerant to gluten?" After some research, I have concluded that the phenomenon of celiac disease and gluten intolerance has, in a way, come about rather suddenly. Why? Because gluten is far more prevalent in our society today than just 100 years ago (but a blip on the timeline of human existence). As the consumption of gluten has increased, the problems associated with gluten have too.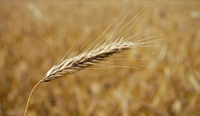 Wheat today is different than it was 100 years ago. It's got more gluten in it! Until the 1870s, almost all U.S. wheat production consisted of "soft wheat" varieties. A "hard spring wheat" variety (originally from Central Europe) with a higher protein content (aka gluten) was introduced in the U.S. in the mid-1800s. The flour made from the higher gluten wheat resulted in fluffier bread and flakier baked goods — this was amazing stuff!
The demand for the new flour grew, but it wasn't so easy to get at first. Although some early types of wheat may have been grown as far back as 9000 B.C., people didn't each much of it because it was difficult to eat in its raw form, and even when they figured out how to crack it open, to grind it, to sift it and to cook with it, these processes were laborious because they had only primitive tools. Whole grains also went rancid rather quickly because of the high oil content in the bran.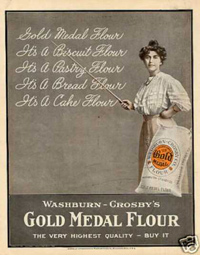 It was eventually discovered that milling the grains (stripping away the germ and the bran) made it so the grains could be kept for longer and also produced a soft, unadulterated white flour. By the early 1800s, many mills had equipment so that they could produce this refined flour. Demand for white flour grew as it became the desirable baking ingredient. Because it was more expensive than brown flour, it also became a status symbol.
It wasn't until the late 19th century that wheat production and consumption grew dramatically. One reason, as mentioned before, was the use of the new, hardier strains of wheat. (Today, wheat can be grown every month of the year somewhere in the world.) Also at this time, great advancements were made in the technology used to grow, harvest, mill and transport wheat. Inventions such as the reaper, the steel plow, and high speed steel roller mills, helped produce huge quantities of finer, whiter flour. Railroads provided better transport of the flour, making it available to more people, and better ovens allowed them to bake with it even more. With all of these advances, the masses had access to the refined wheat flour that was once a luxury of the wealthy.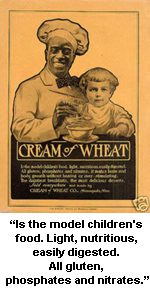 They also found new ways to eat wheat. Though eating a big bowl of cereal for breakfast seems the norm today, it was only in the late 1890's that breakfast cereal was invented as a health food to help people with digestive problems! Kellogg and Post were among the first to come up with processed cereals in the form of flakes, shredded wheat and Grape Nuts. It was around this time that Quaker introduced oatmeal and Cream of Wheat was born. The popularity of cereal continued to rise throughout the decades — the cereal of today is not quite the health food it was once thought to be!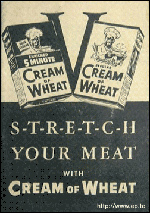 Though wheat consumption slowed a little bit from 1920 through the Great Depression and World War II, people were encouraged to find alternatives for meat and dairy due to war rationing. Thus, Kraft macaroni and cheese dinner, introduced in 1937, gained popularity during wartime and an entire pamphlet of recipes using Cream of Wheat instead of meat was published, with the slogan "Stretch Your Meat With Cream of Wheat." The rise and fall in wheat consumption during World War II in five different countries correlated to the increase and decline in the number of schizophrenia patients admitted to hospitals in those countries, according to a 1966 study.
By the time the 1960s and 1970s rolled around, wheat consumption began to rise again. People became concerned with heart disease and cholesterol and whole wheat was viewed as a healthy alternative to combat these health problems. Wheat consumption in the U.S. saw another great increase with the huge rise in the fast food industry in the 70s and 80s. People on the go could now pick up sandwiches, hamburgers, chicken nuggets, pizza, and bagels just about anywhere.
Today, wheat is the single most cultivated crop worldwide. Most people in the United States eat wheat at almost every single meal, every single day, and for snacks and dessert too. Bakers are adding in "vital wheat gluten" or high gluten flour to make fluffier loaves of bread. Vegetarian and vegan meat substitutes are made from extracted gluten. Wheat is everywhere and then some! It's no wonder we are not tolerating this food that has "suddenly" become our dominant food source.
"The body is not built wrongly, but is being used wrongly" proposed T.L. Cleave, author of a 1974 book called The Saccharine Disease, which addressed health conditions that he believed to be caused by sugar and white flour. Rather than viewing people who are unable to tolerate gluten as defective, we need to recognize that it is the change in our environment — the increase in wheat consumption — that has led to our ill health. My grandmother's memory serves as a reminder of these changes that have occurred in just a short time.
Thank you, Grandma, for inspiring this post. Here's to 99!