The idea for this year's cake design came from my 9 year old birthday girl herself, who knew exactly what she wanted because she saw it on a You Tube video from the popular Rosanna Pansino of Nerdy Nummies. Pizza Cake — a cake made to look like a pizza. I have to admit, this was a fun cake to make because I had my little helper by my side, cutting out and creating all the "pizza" toppings. We actually made two gluten-free pizza cakes (one of them was also egg-free so her egg-allergic sister could have some too).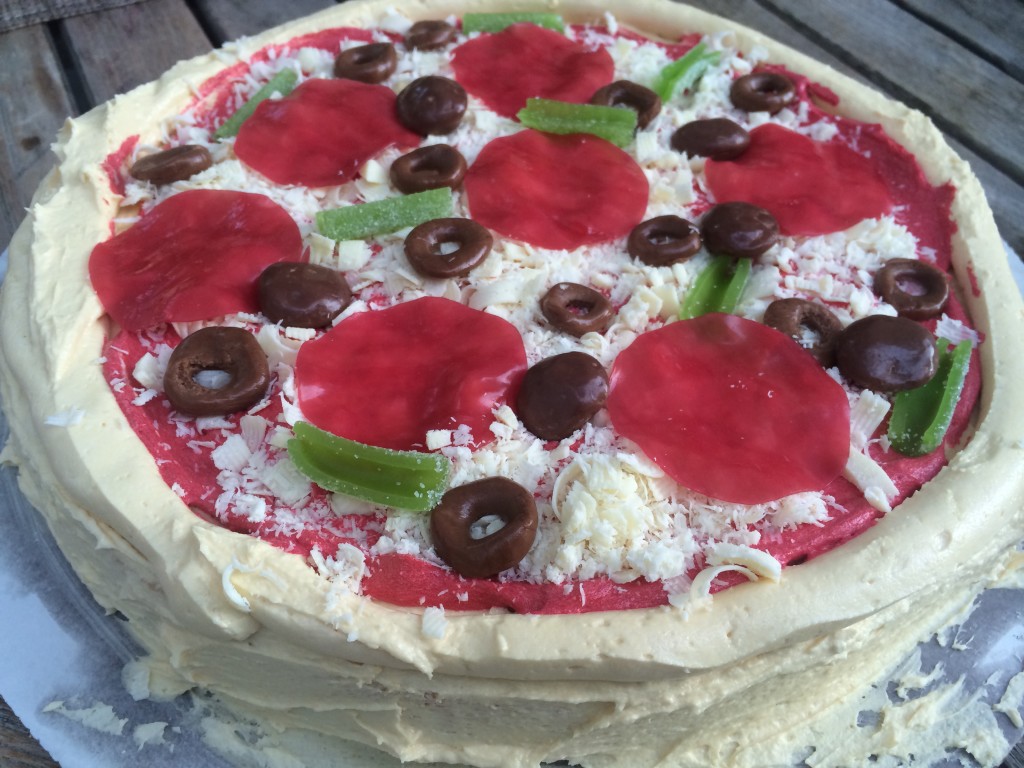 Because pizzas are flat, the cakes only needed to be one layer. We used a 10″ round cake pan
(yes, I bought one since I did not have that size). We also bought a Cake Leveler
(daughter insisted we needed it – it actually was pretty cool!)
Use any gluten-free vanilla cake mix (we used Pamela's) — if you use a chocolate cake mix, it won't look like pizza when you cut it. After baking and cooling your 10″ round cake, you can trim the rounded top with the cake leveler to make it completely flat.
While the cake is cooling, you can get the toppings ready (see below) and make frosting (like a basic buttercream) and color some of it with a yellow or tan food coloring for the pizza crust, and some of it with the reddest red you can get for the tomato sauce. (A note from me on food coloring — no, I don't like it, as I am a natural foodie, but there are just some times, like when making pizza birthday cakes, that you just have to let it go! 🙂 ) Have all of the toppings ready before you frost the cake because you want them to stick in the fresh frosting.
TOPPINGS:
Grated white chocolate (Ghirardelli – found in baking aisle) for the cheese. It was kind of a pain to grate but the Nerdy Nummies tip. to keep in frig and use tin foil to hold it, helped.
Fruit rolls for the pepperoni (rather than fruit strips as shown in the video — either work fine. The fruit roll is stickier than the strip). My daughter free-form cut circles out instead of using a round cookie cutter because we didn't have a round cookie cutter. Or maybe she traced circles onto the fruit roll with a knife and then cut them out. I wasn't really paying attention.
Tootsie Rolls for the olives, but we couldn't find regular size ones, so we used minis. My daughter cut a slice of it, smashed it down with the bottom of a glass and then used a decorating tip to cut a hole in it. Lot of work but she enjoyed it and she really enjoyed eating the tootsie olive holes along the way.
Milk Duds for sausages
Airheads Bites, cut up, for the green peppers — these are NOT gluten-free. She insisted on having them. (For a list of GF and allergen-free candies, please see my annual Halloween Candy List.)
We bought 12 inch cardboard rounds at a cake decorating shop to put the cakes on when we frosted them, and we asked a local pizza restaurant for 12 inch boxes. It made for a great presentation and a surprise for everyone because they thought we had ordered pizza!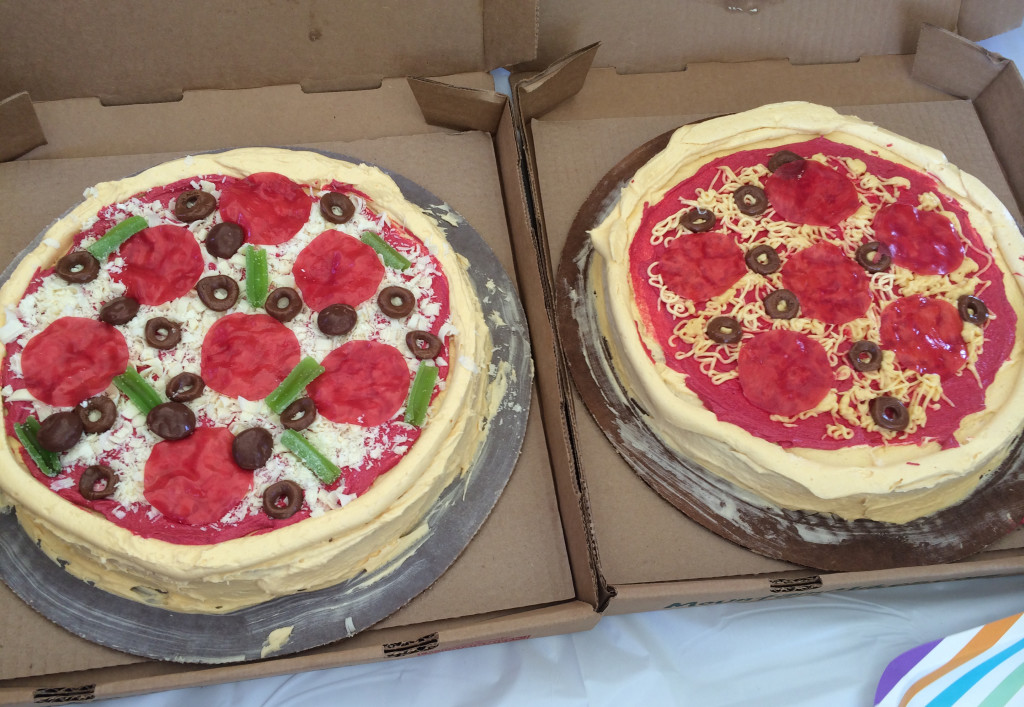 Want to see past birthday treats? Here they are:
Happy Birthday to my girls and a surprise allergen-free dessert
Happy Birthday to my girls and Aloha! gluten-free cakes
Happy birthday to my girls and wow! gluten-free mermaid cakes!
Happy Birthday to my girls and fish cakes