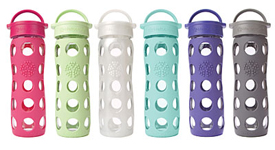 If you don't have a Lifefactory glass water bottle by now, you really need to get one! About a year ago I did a giveaway of these bottles when they were brand-new and nobody had even seen them before. Now, a year later, I am seeing them everywhere! Why? Here are some reasons:
They look cool. Who knew a bottle could be so stylish?
They make things taste good — well, they make things taste like they are supposed to taste, without a plastic or metal flavor added.
They are made from quality, safe ingredients. It really does matter what you put in your body (hopefully you know that already!)
They get clean! Seriously, I have been using the same kid bottles now for 3 years and my big ones for over a year and they all look brand new.
They come in a variety of sizes: small 4 oz and 9 oz for babies and kids, medium 16 oz (new this year) and large 22 oz for adults.
They look cool — oh, did I already say that?

And now, what you've been waiting for… the giveaway. My husband (who works for Lifefactory) has authorized me to give away 3 bottles. Oh, what the heck, I'm sure he'll let me give away 4. Let's do 4! To enter to win, please leave a comment (one per person) with the size you choose (either 16 oz or 22 oz) and the color you want. Now this is tricky — the 16 oz has some different color options than the 22 oz, so pay attention:
The medium 16 oz colors are: Raspberry, Spring Green, Pearl White,Turquoise, Royal Purple, and Graphite (see picture at top of post)
The large 22 oz colors are: Red, Orange, Spring Green, Pearl White, Sky Blue and Midnight Blue (see picture to right). Matching color caps are new this year!
You have until Sunday, May 1 at midnight PST to post a comment. I will choose the winners at random. UPDATE: Extended til Monday, May 2 midnight PST!
Even if you don't win, you lucky readers of Sure Foods Living get a special online discount of 20% at Lifefactory.com if you use the code surefoods20 at check out (good until June 30, 2011).
Cheers!