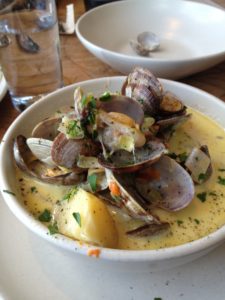 I often get asked for gluten-free food recommendations in the San Francisco Bay Area. Well, I got a nice surprise recently at Hog Island Oyster Co. Bar, which has two locations. One is in the Ferry Building in San Francisco and the other is in Oxbow Public Market in Napa. (The actual Hog Island Oyster Farm in located on Highway 1 in Marshall).
A friend had picked this spot and at first I was a little wary because it didn't seem like there were a lot of gluten-free options. When we were told that the clam chowder was gluten-free, I was sold! Doesn't it look fabulous, piled high with fresh clams, and surrounded by potatoes and other vegetables, and bacon? It was delicious. (For those new to the gluten-free diet, you should know that most clam chowder is made with flour.)
There are other gluten-free options on their small menu – the salad I had was really good and fresh. And there are, of course, the oysters. Other than raw, I was told that the steamers are sometimes steamed with beer, sometimes white wine, but it's no problem for them to accommodate. The baked oysters and the oyster stew are also gluten-free. On Sundays, they serve a gumbo, which is NOT gluten-free and there may be other specials that contain gluten. As always, be sure to double check for yourself. Don't forget to pair with some nice California wines, and if you go to the Ferry Building location, grab a gluten-free baguette from Mariposa Baking Company to dip in the chowder… heaven.
For more information, see the Hog Island Oyster Bar sample menu and visit their website.