Peach Crisp for Karina
Posted on July 9th, 2007 by Alison
Read 4 Comments - Add Your Own »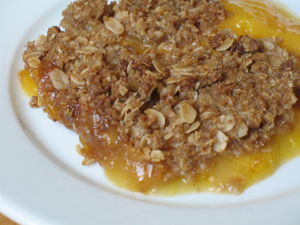 I do not claim to be a fabulous cook, but I'm pretty okay, thanks to tips from my mother and sister who are great cooks. I haven't put many recipes on this site, as there are already good cooking sites for people with food sensitivities. But today I am posting a recipe for an event called Cooking for Karina, a challenge to bloggers to come up with a recipe for the Gluten Free Goddess, Karina, who recently found out that she has many food allergies. Her recipe site has helped many people and the allergy-free community is giving back.
So, in honor of Karina and her wonderful recipes, and for other people with multiple food allergies, I present a special Peach Crisp. This dessert is special because it is gluten-free, dairy-free, soy-free, nut-free, and egg-free, qualities especially hard to find in a dessert. It is also special because you would never know that it is free of all those things!
It is cooking in the oven right now as I write. I hope it turns out, or I won't be able to post this! See the end for the results.
Peach Crisp
Topping:
I always wish there was more topping on crisps, so this makes a lot! Use as much as you want and then you can freeze the extra for use on anything (it even tastes good just to eat – kind of like cookie dough!)
Combine dry ingredients first, then drizzle in the oil while mixing until evenly moist. It will be a little crumbly.
Peach mixture:
3 lbs fresh ripe peaches (6 large peaches), peeled and sliced in thin wedges
1/2 cup sugar
3 tablespoons gluten-free flour (use same as for topping)
Combine all ingredients in a bowl, stirring gently.
Put the peach mixture into an oiled baking dish and cover with the topping. Bake in a 375 degree oven for 50 minutes. The top should be browned and the peaches bubbly. Serve warm or cool, plain or with non-dairy ice cream.
Well, I'm sure you figured out that since I did post this recipe, it must have turned out okay. It did! In fact, it was better than I expected. I called my very-honest neighbor to come try it and she agreed that it was delicious.
Thanks to Gluten Free by the Bay and the Gluten Free Goddess for the inspiration to create something new that everyone can enjoy (unless you're allergic to peaches… then use a different fruit!)