Product Review: Pamela's Amazing Wheat-Free Bread Mix
Posted on July 18th, 2007 by Alison
ADD A COMMENT »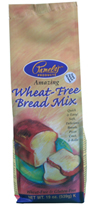 Rating:





Product description:
Amazing Wheat-Free Bread Mix by Pamela's Products:
19 oz. package of gluten-free bread mix includes yeast packet
Makes a 2 lb. loaf
Can be used with a bread machine or mixer
Includes recipes for bread variations, pizza crust and pie crust
Includes recipe for egg-free version
Ingredients: Sorghum flour, tapioca flour, sweet rice flour, brown rice flour, organic natural evaporated cane sugar, chicory root, white rice flour, millet flour, honey and molasses, rice bran, sea salt, xanthan gum, yeast packet (active dry yeast).
Review:
Pamela's has been in the wheat-free/gluten-free business a long time and it shows. With this bread mix, all one has to do is put all the ingredients together in a mixer, let the dough rise and then bake. This bread mix is a staple in my house for 3 reasons: 1) it is the easiest bread mix to make (it literally takes me a total of 7 minutes from opening of package to putting in pan), 2) there is an egg-free version recipe on the bag (turns out great!), and 3) the bread is soft and has flavor (unlike some other gluten-free breads), if a little bit on the sweet side.
Whether you are a beginner or a seasoned chef, this bread mix will reward you with a delicious freshly-baked loaf that can be used for sandwiches, toast, french toast, croutons or stuffing. If you want to get creative, follow one of the recipes on the package for cheese bread, herb bread, cinnamon bread, pizza crust or pie crust, or try one of the recipes on Pamela's website.
What I like:
Easy to make
Tastes great
Lasts without putting in the frig – I leave mine on the counter in a plastic ziplock (after it has cooled completely) for a week or more
It is free (or can be made free of) most allergens, including dairy, soy, eggs and corn
What I don't like:
Where to buy:
If you can't find it in your area, I suggest buying a Pack of 6 from Amazon. It works out to be from $3.83 to $5.00 per package, depending on the current sale price. Or you can buy a single bag if you just want to try it out.
Learn more about making bread.