A gluten-free dairy-free egg-free birthday menu
Posted on August 29th, 2007 by Alison
Read 5 Comments - Add Your Own »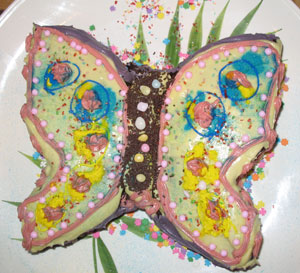 My girls turned 1 and 3 this month, their birthdays falling 10 days apart, so we had a double birthday party for both kids and adults.
Because of my family's multiple food sensitivities, we made all the food. While it was an exhausting endeavor, I am proud of how it all turned out. We made way too much – the party could have been twice the size, but that's ok – lots of leftovers!
So here was our gluten-free, dairy-free, egg-free, and nut-free menu. Almost everything could be made a day ahead.
SNACKS:
Tortilla chips & salsa
Potato chips
Tings (like Cheetos without the cheese)
Grapes and strawberries
LUNCH for the kids:
Sandwiches with bread made with Pamela's Wheat-Free Bread Mix (egg-free recipe) – some with turkey and Tofutti non-dairy cream cheese and some with jelly (the jelly ones were the favorite)
LUNCH for the adults:
DESSERT:
OTHER GOODIES (these were NOT egg-free):
Think we went overboard?? Yep. Not sure I will ever do that again, but everyone loved the food and like I said… leftovers!
P.S. Thank you to both sets of grandparents and my sister for helping me pull this off. My mom (an artist, unlike myself) decorated the cake.