Super Easy Greek Quinoa Salad
Posted on August 23rd, 2007 by Alison
Read 3 Comments - Add Your Own »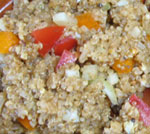 Quinoa salad is a great dish to bring to a potluck or serve at a lunch or BBQ. It is easy to make, it is unique, and people will love it.
Here is a very simple recipe that is gluten-free, dairy-free, soy-free, and egg-free. It can be made a day ahead.
Greek Quinoa Salad
Serves 8-10
Make quinoa using this basic quinoa recipe doubled (2 cups raw quinoa). Cook the quinoa ahead of time so that it has time to cool. To cool quinoa faster, transfer to a bowl and occasionally turn the quinoa with a spoon.
Once quinoa has cooled, add any combination of the following:
1 red or yellow bell pepper, diced
1 cucumber, diced
1 jar pitted kalamata olives, halved or cut in thirds
1 can artichoke hearts, quartered or smaller
1/2 red onion, diced
basil, chopped
optional: 2 chicken breasts, poached and chopped
optional: crumbled feta cheese
Then dress the salad to your taste with a simple oil & vinegar, or your favorite salad dressing.