Today was a good day to be gluten-free
Posted on January 13th, 2008 by Alison
Read 2 Comments - Add Your Own »
I just moved to Marin County from San Francisco. I had been hearing about the farmer's market that takes place in San Rafael at the Marin Civic Center for some time, but for some reason never made it while I was living in the city (it was a whole 20 minutes away!) So finally today, I went. And boy was I glad I did. Just take a look at this: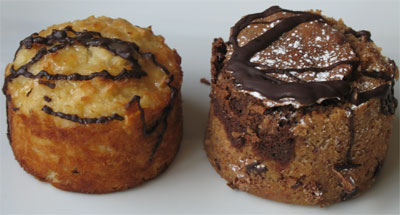 Yes, these are gluten-free, made by Flour Chylde Bakery of Novato. They claim that they are not a gluten-free bakery but that they are careful about cleaning their equipment. The chocolate one was incredible and the coconut one was good, but the chocolate one — wow.
Earlier tonight I had Brazilian cheese bread from the Brazilian Cheese Bread Company, also purchased at the farmer's market. It comes frozen like this: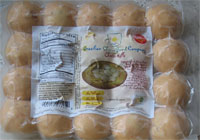 Then you bake the little bread balls. They are so yummy and come in many flavors, including garlic, olive and sun-dried tomato. They also make pizza crusts from the same gluten-free dough. The company is a sponsor for the National Foundation for Celiac Awareness. I will definitely be buying these again.
And as if I hadn't had enough special treats for the day, I decided to try one of the "Macarons de Paris" that my friend brought me from a bakery in San Francisco called Bay Bread.

I don't know what claims the bakery makes about cross-contamination, but my friend brought me the ingredient list — no gluten-containing ingredients. The texture of these little desserts is like no other I have tasted – so light and airy, with a buttercream filling. The cookie is made with almonds, egg whites and sugar and the filling comes in different flavors, including coffee, hazelnut, pistachio, apple, caramel, raspberry, lemon and chocolate.
Sometimes it's not so bad being gluten-free!