4 more gluten-free lunch ideas
Posted on April 3rd, 2008 by Alison
Read 3 Comments - Add Your Own »
Looking for more lunch ideas in addition to the 6 gluten-free lunch ideas for work?
Here are some easy meal ideas for home, work or school: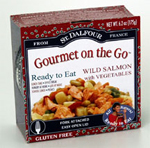 1. Gourmet on the Go
These ready-to-eat meals from St. Dalfour of France are surprisingly delicious and satisfying. They are vacuum packed, and can be eaten right from the container or microwaved in the container.
Two of the flavors are gluten-free (and no dairy, soy, eggs or nuts) — Wild Salmon with Vegetables and Three Beans with Sweetcorn. I have tasted both and they are really good. My kids even liked them. Plus, they come with a little spork (spoon/fork), always a bonus for getting your kids to eat something! This is great for the airplane. Ask your local store if they carry it, or order it online.
2. Quick Quesadilla
You probably wouldn't think of putting lunch meat in a quesadilla, but if you don't have any grilled chicken or shredded pork on hand, you can use packaged chicken or turkey breast slices or salami. It tastes great! In the morning, assemble corn tortillas with cheese and the lunch meat (don't put beans or anything else that will make it soggy). Pack a side of salsa, lettuce or any other additions. When it's time for lunch, just microwave the pre-assembled quesadillas and top with your extras.
3. Array of Appetizers
Grab the following out of your frig and cupboards and throw in a bag:
Carrots, celery, crackers, chips, hummus, peanut butter (or pb alternative butter), cream cheese or ranch dressing, slices of lunch meat, slices of cheese, tuna, and how about some tapenade (olive spread). Spread it all out on a plate, mix & match, and enjoy! Your co-workers might think you are a little strange, but they probably already do anyway.
4. Piece of Pizza
If you ever make pizza for dinner, make extra for the next day's lunch. Making one pizza might be labor-intensive (depending on whether you are using pre-made crusts and how many toppings you are adding), but making a second or third doesn't add much more work. For lunch, just heat the leftover pieces. Yum.