Peanut detector dogs are here!
Posted on April 19th, 2008 by Alison
Read 8 Comments - Add Your Own »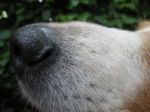 A dog that can sniff out peanuts — yes, it's true! In Texas they are training dogs to detect peanuts to keep peanut-allergic people safe. In addition to accompanying you to public places, your dog can sniff guests who enter the home and "discreetly scan them for peanut residue in order to minimize the chance of contamination."
I think this is a great idea, especially for peanut-allergic kids who (unfortunately) always need someone to scan their environment to make sure it is safe. Who wouldn't want the extra protection? Unless you don't like dogs or are not a dog-person, like me (boo, hiss! — sorry, when you grow up with asthma and allergies, dog hair plastered to your clothing and being licked in the face aren't the most appealing things!) I think even I might consider a dog if it meant keeping my child safe. What do you think — good idea?
For more information, visit Peanutdog.com.