Get your allergy-free cupcakes ready
Posted on June 12th, 2008 by Alison
Read 6 Comments - Add Your Own »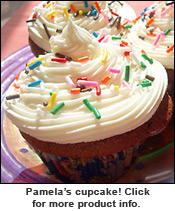 Now that my daughter is in preschool, we are on the birthday party circuit. Telling her she can't have a piece of cake or cupcake because of her food allergies would be upsetting (for both me and her), which is why I make sure that I always have cupcakes on hand. Here's how you can do the same and be a superstar mom or dad!
Do this now:
Make a batch of chocolate cupcakes, and freeze what you don't need to use that time, or even double the recipe to make sure you have extras. The easiest thing to do is make a mix, like Pamela's chocolate cake mix or CherryBrook Kitchen (both good for egg-free). I also like Gluten-Free Pantry and Namaste. Any cake mix can become cupcakes, just cook for less time!
Make a batch of vanilla cupcakes too. Vanilla cake is harder to make egg-free, but Pamela has a vanilla cake mix that I have made with egg replacer and they turned out okay (see picture at right) even though the directions say it will not work! Or, if you'd like, make a cupcake from scratch using a gluten-free recipe. And, by the way, muffins magically turn into cupcakes when topped with frosting and sprinkles, so that's another option!
Make chocolate frosting and vanilla frosting and keep them in an airtight container in the refrigerator. Tip: Start by making vanilla frosting, take out half and then add the cocoa to make chocolate — that way, you really are only making one batch of frosting. You can use frosting mixes, like Pamela's (I substitute softened palm shortening for the butter to make it dairy and soy-free), or you can use good old C&H powdered sugar and follow their easy recipes, some of which are below.
Do this later:
Before the day of the party, talk to the host of the birthday party to find out what food they are serving (in case you also need to bring your own snacks or lunch) and what kind of cake or cupcakes they are having. It is usually always some combination of white or chocolate cake and white or chocolate frosting. Try to match what they are having.
The night before or the morning of the party, take some cupcakes out to thaw. I bring 2 for my daughter just in case, but she usually only has one. Also, I like to have one on hand in case someone else needs an allergen-free cupcake (hasn't happened yet, but when it does, I will make someone's day!) If it is really last-minute, you can thaw the cupcake in the microwave.
Take out your frosting to thaw also. Or, you can microwave it just as you would to soften butter (don't melt it).
Frost and decorate the cupcakes. If you want to get fancy, you can use decorating tools. It is actually really easy and you get to feel like a pastry chef for a minute! For sprinkles, I like India Tree brand or Let's Do Organic Sprinkelz, which are gluten-free (most sprinkles contain wheat). As long as you've got yummy frosting and sprinkles, the cupcake part doesn't even really matter that much!
Now SMILE and pat yourself on the back because your child has not been deprived of that age-old birthday treat – the CUPCAKE!
A few allergy-free frosting recipes adapted from C&H website:
Basic Decorating Icing (good for piping)
Ingredients:
4 cups powdered sugar (a one-pound box of C&H)
1/2 cup butter or shortening (palm if you want to make it soy-free)
1/4 cup water or milk (rice milk works well)
1 tsp. vanilla or other flavoring
food color (optional)
add 1/4 cup unsweetened cocoa powder if you want to make chocolate
Instructions: Beat all ingredients until smooth. Keep icing covered to prevent drying. Store in refrigerator. Thicken with powdered sugar or thin with a few drops of water or milk, if needed. Makes 2 1/2 cups.
Vanilla Glaze — a traditional glaze for coffee cakes and sweet rolls, but good on cupcakes too!
Ingredients:
1 cup powdered sugar
1 1/2 tbsp. milk (you can use non-dairy milk — rice milk works great)
1/2 tsp. vanilla
Instructions: Beat all ingredients until smooth. Makes 1/2 cup.
Chocolate Glaze — A smooth, rich glaze for cookies, cakes, cupcakes and more!
Ingredients:
1/4 cup chocolate pieces, semisweet
1 tbsp. butter or margarine (or shortening)
1/2 cup powdered sugar
1 1/2 tbsp. milk (or rice milk)
Instructions: In small saucepan, melt chocolate with butter (or shortening). Remove from heat and beat in powdered sugar adding milk gradually until mixture is a pourable consistency. Makes enough glaze for a layer cake.