Product Review: Coconut Bliss dairy-free ice cream
Posted on June 10th, 2008 by Alison
Read 9 Comments - Add Your Own »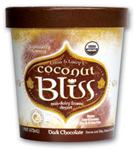 Rating:





Product description:
Coconut Bliss:
Non-dairy frozen dessert (ice cream) made from organic coconut milk and agave syrup
Gluten-free
Vegan (which means no milk and no eggs)
Soy-free
Low glycemic index
Review:
Move over Ben & Jerry and make way for Luna & Larry! I have just discovered Coconut Bliss ice cream and I am in love! I have tried many dairy-free ice creams, including soy-based ones and rice-based ones (and some that are made with both rice and soy like Rice Divine). This one is made with coconut milk as its base, and adds no soy or gluten. The result is a rich and creamy ice cream that rivals or even tops dairy ice creams in taste and texture. This is definitely a dessert I would serve to all my guests, not just to my dairy-free kids (in fact, I haven't decided if I'm even going to share it with them at all!)
I love that the ingredients are pure and agave syrup is used for the sweetener instead of sugar. While the fat content isn't lower that other ice creams, there is no cholesterol. And if you'd like to learn about the health benefits of coconut, Luna & Larry recommend the website Coconut Research Center.
I can't wait to get through dinner tonight, so I can delve into dessert!
What I like:
It is so creamy, just like "real" ice cream
The flavor makes you say "yummmmm"
It comes in many flavors: Naked Coconut, Dark Chocolate, Vanilla Island, Mint Galactica, Cappuccino, Cherry Amaretto, Pina Colada, Cinnamon Chocolate Flake, Strawberry Lemon Love, Chocolate Hazelnut Fudge
What I don't like:
That 2 flavors have nuts (my daughter is allergic so I need to think about the possibility of cross-contamination)
I haven't tried all the flavors yet (and can't wait!)… I'll let you know if there are any I don't like
Where to buy:
As of June 2008, Coconut Bliss is only sold in the western United States. I found it in Whole Foods.