Celebrate freedom with an allergy-free BBQ!
Posted on July 1st, 2008 by Alison
Read 8 Comments - Add Your Own »
The 4th of July is near. This makes me think of freedom… which makes me think of being allergy-free! Believe it or not, thinking of freedom from food allergies makes me joyous. Even though at times I feel a loss of freedom when I have to avoid gluten, or when my daughter can't partake in the dessert being offered at a party, I prefer to think of the freedom from all the health problems we experienced before being allergy-free:

for me, it means freedom from stomach pain, fatigue, leg cramps, asthma (and lots more)

for my husband, it means freedom from migraines (dating back to junior high), burning stomach, and acid reflux

for my daughter, it means freedom from hives, rashes, a bad tummy and sudden tantrums
Now go celebrate your freedom with a good ol' allergy-free barbecue! Here are some tips to make your summer BBQ a hit: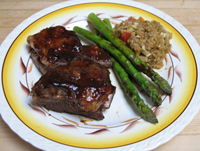 Barbecue sauces
If you like your meat saucy, just be sure to read labels for allergens — manufacturers are required to list the top 8 allergens in plain English on their labels (and Kraft brand will also list if there is barley, rye or oats for gluten-free people). My personal favorite barbecue sauces are
Daddy Sam's (gluten-free and free of all top allergens) — spicy and delicious
Bone Suckin' Sauce (gluten-free and free of all top allergens) — it's got a sweetness along with a spiciness that is so good. Go ahead and buy some!
Gluten-free hamburger and hot dog buns
I can't say I have found any pre-made buns that I think are very good (please enlighten me if you have). My favorite buns I have made out of Pamela's Amazing Wheat-Free Bread Mix. If you have English Muffin rings, you can use those for hamburger buns. If you don't, just use tin foil to make a ring to fill with the bread dough.
I made hot dog bun molds out of aluminum foil and they turned out great. My advice is to make them skinny — mine turned out a little too big. I followed the bread directions, filled my molds and let them rise. I sprinkled sesame seeds on before baking and baked until they were done (normally this bread takes 60 minutes, so I think I baked them for 30 or 40, but it depends on the size of the buns). The result was a soft, not crumbly, bread-y bun.
Side dishes
For a refreshing and unique side dish try making a quinoa salad – it's easy, delicious, and nutritious! Check out a quinoa salad recipe.
Roasted potatoes are a satisfying gluten-free side dish that everyone loves.
Gluten-free cornbread or biscuits also make a great accompaniment to the meal. Here are some I recommend:
Dessert


Don't forget the gluten-free apple pie!
Have a happy 4th!