Interview with Chef Douglas Keane on serving gluten-free
Posted on July 20th, 2008 by Alison
Read 2 Comments - Add Your Own »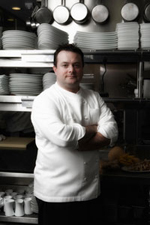 I recently had a fabulous gluten-free dining experience at Cyrus Restaurant in Healdsburg, California. I wanted to find out more about why this restaurant has chosen to accommodate gluten-free diners when other restaurants are still trying to figure out if potatoes are gluten-free (they are, in case you're not up to speed either!)
In a phone conversation with Chef Douglas Keane, I asked him why they started having gluten-free items such as dinner rolls. The reason, he says, is that "it's come up more." He says he wasn't really aware of it before this restaurant, but people have been requesting it more and more.
"It was frustrating to give the response in the beginning, 'I can't do anything.'" says Keane. It was frustrating, he says, because he couldn't put any thought into the dishes. He felt like he was just putting food on the plate to feed them and not giving them the full experience. Plus, it is an expensive restaurant and he didn't want people to feel that they weren't getting their money's worth. So, he thought, "I gotta do something." He did research on gluten-free food and doesn't find it hard to adapt the menu as needed.
He also added to the bottom of the menu a note: We welcome advance notice of special dietary requests to accommodate your needs and ensure dishes equal the integrity of the regular menu. Most people request a gluten-free or shellfish-free menu, but Keane has had people come in with gluten and dairy allergy, onion and garlic allergy, and a pea allergy. He tries to accommodate any dietary request, BUT, Keane says, he can't pull it out of a hat! So no matter what your dietary need, it is important to call ahead. "If people do their part and let us know ahead of time", then, Keane says, "I owe it to them to show them an experience."
And those gluten-free rolls?
They started making their own breads at Cyrus and then Chef Drew Glassell thought that they could come up with something gluten-free. Within a day they had done it. They par-bake the rolls and freeze them, and then bake them upon request. What a treat for the GF diner! (But if you can't have butter, beware!)
Keane still gets nervous when someone with a food allergy comes in. He jokingly says, "First rule is don't hurt or kill anyone." At Cyrus, they do take it very seriously and they work as a team to try to meet the customers' requests. Meet our requests they did, flawlessly.