One way to save money on groceries
Posted on July 15th, 2008 by Alison
Read 4 Comments - Add Your Own »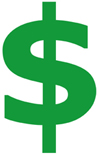 Gluten-free and allergy-free people have to pay more in general for their groceries. I love Whole Foods Market and am grateful that they carry so many gluten-free items. It's just that I end up spending so much money there because I buy a lot of my other groceries there too. Great products, but it's killing my bank account!
One thing I started doing this year to save money is shopping on Amazon. You can find great deals on, well, everything, but also on food. If you have products that have become regulars in your household, buying a case of your favorites can save you money.
Let's do the math
Here's a practical example of my money-saving technique: at Whole Foods I think I pay $4.59 for a package of Pamela's bread mix (a staple in our house). On Amazon, I can buy a case for $23.80, which comes out to $3.97 per package. But wait, there's more! Amazon now has a subscription service that allows you to set up regular shipments of products, either every 1 month, 2 months, 3 months or 6 months. Setting up a subscription saves you an extra 15% on every shipment. I figure I make bread (or something else with the mix, like pizza) every 1-2 weeks so I signed up for 1 case of 6 to be sent every 2 months. With the extra 15%, the case now costs $20.23, which works out to $3.37 per package. If you don't use bread mixes, then think about other favorites like Erewhon crispy rice cereal or Larabars or Pamela's pancake mix.
What about shipping?

Many grocery items qualify for Free Super Saver Shipping with a $25 minimum order. Now, if you are a serious Amazon shopper (as I am), sign up for Amazon Prime! You pay $79 for the year and get free 2-day shipping on anything that ships from Amazon. There is no minimum order. You even get the free 2-day shipping if you send it to someone else, which is great when you need to send a gift quick. I am an Amazon Prime customer and let me tell you, it is great to get your gluten-free groceries in only 2 days (especially when you need them for a party or a trip) and not have to pay any shipping.
Is this an ad for Amazon?
Really I just want to help everyone out there struggling with their grocery bills (not to mention the time and gas spent to go find all of the special products). I do get a small commission if you buy on Amazon when you click through from my site (at no extra cost to you). So if you want to show Sure Foods Living some love, you can either shop at my Amazon gluten-free store where I have hand-picked the products I recommend, or you can just click here to shop anywhere on Amazon. These links are also always available in the right sidebar. Every little bit helps keep this site going and I appreciate those of you who have been doing it!