A gluten-free hamburger bun = happiness
Posted on August 27th, 2008 by Alison
Read 7 Comments - Add Your Own »
Does this look good?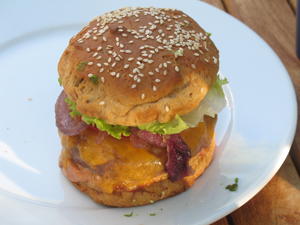 This past weekend we had a birthday party for my girls which included dinner for kids and adults, and of course cake, which I already wrote about in my post Happy Birthday to my girls. Now I want to write about our dinner menu which was my favorite part of the evening. It had to be gluten-free of course, for me, my husband, my kids and 2 of the adult guests. And I wanted it be something that a gluten-free person doesn't get very often (or ever).
So I decided on hamburgers. Not just any hamburgers. Hamburgers with all the fixins — cheese, onions sauteed for hours, fresh tomatoes from my parents' garden, perfectly ripe avocado — plus… a gluten-free BUN. A good bun. A homemade bun. One that brings back the memories of a real hamburger, not one encased by lettuce leaves (a la In-N-Out burger) or left naked and eaten with a fork. I wanted to sink my teeth into a big juicy burger and have saucy condiments drip down just like in the commercials.
I set out to make the buns using a bread mix and foil molds. It worked. When it was time to serve our hamburger feast, one of the guests said, "Nice buns." Why, thank you. "Nice buns!" said another guest, not hearing the first. Thank you again. That compliment/joke just doesn't get old! I really did have some nice looking buns if I do say so myself.
Here's how I did it, step by step:
Use a bread mix or your favorite bread recipe. I used Pamela's Amazing Wheat-Free Bread Mix.
Make aluminum foil molds by cutting the foil into a circle and pinching the edges all around to create a large cup shape. Make it as big around as you would like your bun to be. You can smooth the bottom of the cup with your finger if you want the bottoms to be more smooth.
Spray the inside of the cup with non-stick spray and place cups on a baking sheet.
Follow the directions to make the bread dough. I tried making them with egg replacer and they were okay, but not as good as the ones with eggs.
Put 2 heaping spoonfuls of dough in each cup and spread with a spatula to flatten it and fill the bottom of the foil cup. Don't put too much dough in each cup or your bun will be too thick. I made 6 large cups from 1 of Pamela's mixes.
Let rise according to the directions (usually 1 hour).
Before baking, you can brush the tops of the buns with an egg wash (egg mixed with water) and sprinkle sesame seeds on top. The egg wash helps the tops to brown and also to hold the sesame seeds on.
Bake for less time that you would for a loaf, but don't underbake. I baked for 45-50 minutes with Pamela's mix and covered the tops with foil for the last 10 minutes to prevent them from getting too brown.
When finished baking, take buns out of foil and cool on a cooling rack.
And the picture at the top shows my cheeseburger with everything on it. It did bring back memories, and it did drip!