Happy Birthday to my girls
Posted on August 25th, 2008 by Alison
Read 5 Comments - Add Your Own »
I rarely post pictures of my daughters here, but today I am sharing a picture of my beautiful girls who turn 4 and 2 this month. Aside from their food allergies, they are as happy and healthy as can be, and I am a proud mom!
We celebrated with a double birthday party and a gluten-free, dairy-free, egg-free, soy-free, nut-free chocolate cake for each of them. "What's in it?" asked one of the grown-up guests as he took a bite and then said "Mmmm."
The theme of the party was "Under the Sea" so they each got a fish cake. (Last year it was butterflies.)
The fish design I was using for the cake required a 9×13 pan. Without eggs, I was worried that the cake would come out too flat, so I used 3 Pamela's chocolate cake mixes for 2 9×13 pans (1 and 1/2 mixes in each). This made the cakes the right height and they came out perfectly using non-stick spray.
For the frosting I used Pamela's vanilla frosting mix with Spectrum Organics Shortening, which I soften in the microwave before mixing. I had to use almost 3 packages of frosting mix to cover these cakes.
Mind you, I am not a cake artist and I was in a time crunch (these things always take longer than you think they are going to!), and please forgive the sub-par photography, but they did turn out pretty cute.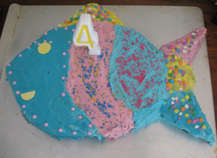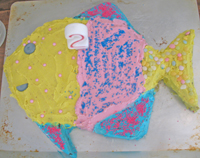 Most importantly, it tasted great (and still does as I write this!) and satisfied even the gluten-eaters in the group, kids and adults included. People even wanted to take some home.
It was a lovely birthday for my lovelies!
There was dinner too: read A gluten-free hamburger bun = happiness.