Dairy-free soy-free yogurt
Posted on October 29th, 2008 by Alison
Read 31 Comments - Add Your Own »
Last year my sister Leslie wrote a post about Ricera, a rice-based yogurt that was the only dairy-free and soy-free yogurt available at that time. After a reader disagreed with her opinion that it was "good," she wrote in the comment section "I must admit that my excitement at finding a soy-free yogurt probably tilted my review toward the positive." My own allergic daughter really did like the yogurt, but my problem has been that it is hard to find. I definitely have to make a special trip to an out-of-the way market to find it.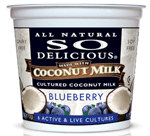 My sister called the other day to tell me that she found a NEW dairy-free soy-free yogurt — made from cultured coconut milk! It is so creamy and delicious, anyone would want to eat it. Not only that, but it comes in 6 flavors: Blueberry, Passionate Mango, Plain, Raspberry, Strawberry Banana, and Vanilla.
Made by Turtle Mountain under the So Delicious brand, this yogurt is:
Dairy Free Lactose Free
Soy Free
Rich in Medium Chain Fatty Acids
Excellent source of Vitamin B12 (vegetarian friendly)
Formulated for maximum calcium absorption
Contains Pre- and Probiotics for enhanced intestinal health
Cholesterol Free
No Trans Fats
Certified Vegan
Sound good? It is! My 4-year-old daughter is crazy about it. And I mean crazy — she gets wide-eyed, gasps and raises her arms in a V for victory when I offer it to her for a snack. And, it is available in Whole Foods. This really is a victory for moms of allergic kids!
Related articles:
Dairy-free soy-free margarine?
Rice cheese (dairy-free and soy-free!)
Product Review: Coconut Bliss dairy-free ice cream