Gimbal's candies are allergen-free
Posted on October 24th, 2008 by Alison
Read 1 Comment - Add Your Own »
I've got another candy company to add to your safe list!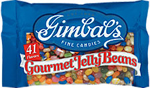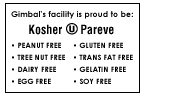 Gimbal's Fine Candies, located in San Francisco, produces candies that are free of the top 8 allergens and gluten. In fact, they are made in a facility that is free of peanuts, nuts, dairy, eggs, gluten and soy.
They make jelly beans in 41 flavors, none of them peanut butter (unlike Jelly Belly that told me peanut-allergic people should avoid all of their products because they produce one peanut butter flavored bean.)
Gimbal's also makes Licorice Scottie Dogs, free of the wheat that is found in almost all licorice. Scottie Dogs come in Black or Red. There are other specialty candies too.
Gimbal's jelly beans can be found in all Walmarts across the nation, in Sam's Clubs (under their own Members Mark brand), in KMart and Shop Rite. Scottie Dogs can be found in Trader Joe's. Or, you can order all Gimbal's candies online at CandyDirect.com.
Related articles:
Halloween candy for kids with food allergies
Gluten-Free and Allergen-Free Candy Quick List