Finally, a gluten-free granola with oats
Posted on December 9th, 2008 by Alison
Read 1 Comment - Add Your Own »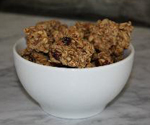 I have been hoping for a while that someone would make a granola using uncontaminated gluten-free oats. You know, a "real" granola for gluten-free people! Well, someone finally has — Jake Bakes, a dedicated allergy friendly bakery in northern New Jersey, is using certified gluten-free oats to make three different flavors of granola.
They sent me a sample of the Farmer's Market Granola, which I loved, and they also have Agave Granola and Chocolate Granola. All granolas are gluten-free, dairy-free, nut and peanut-free. They do contain soy in the vegan margarine. I really love this granola for snacking!
I also tried two kinds of cookies – Chocolate Chocolate Chip and Oatmeal Raisin (no soy in this one). They have nteresting ingredients, including certified gluten-free oat flour and mesquite flour. I really liked the cookies — very sweet (might be too sweet for some people) and satisfying. They also have other flavors: Oatty Chocolate Chip, Chewy Gingerbread and Double Chocolate Ginger.
If you like homemade marshmallows, Jake Bakes offers four flavors of big, square-cut, soft marshmallows — vanilla, strawberry, chocolate and espresso. So much better than the store-bought kind! Need more sweet stuff? Try their Caramel Corn or Sweet Spiced Caramel Corn – I wasn't crazy about the spices and cranberries in this one, but I liked the caramel corn part, so I would probably love the plain.
Any of the above options would make a nice treat for yourself or for someone you love this holiday season!
You can learn more about Jake Bakes by visiting their website. You can order their products online, by phone: (973) 588-3513 or email: info@jakebakes.com.
Related article:
What's the deal with oats?