Glutino Pretzels new formula
Posted on December 30th, 2008 by Alison
Read 6 Comments - Add Your Own »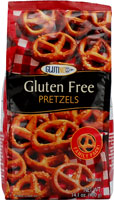 I am happy to report that Glutino gluten-free pretzels no longer contain soy flour, which was a main ingredient before. There is still soy lecithin, but many soy-sensitive people do not need to avoid soy lecithin as it contains low levels of or no soy protein (check with your doctor).
Glutino pretzels come in many shapes: Sticks, Twists, Unsalted Twists and Sesame Rings. All are delicious!
The ingredients of the Pretzel Sticks and Twists are: corn starch, potato starch, palm oil, sugar, sea salt, cellulose gum, soy lecithin, sodium bicarbonate, yeast extract, sodium acid pyrophosphate, citric acid, sodium hydroxide. The Unsalted is without the salt and the Sesame is with sesame added.
Another gluten-free pretzel that is very good is Ener-G's Wylde Pretzels, which also comes in salted, sesame and poppyseed flavors.