I made an allergen-free gingerbread house!
Posted on December 22nd, 2008 by Alison
Read 3 Comments - Add Your Own »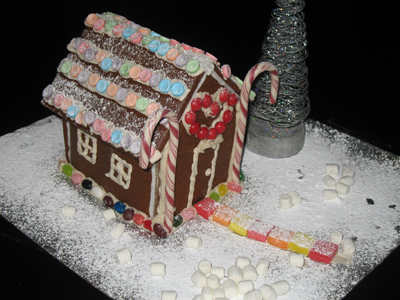 I am quite proud and excited (probably more than my kids) that I made an allergen-free gingerbread house. No gluten, dairy, soy, eggs, or nuts. It was fun! And not so hard with a little help from Pamela (of Pamela's Products) and Sue (a reader of this blog). I used Pamela's recipe for the gingerbread house and I used Sue's suggestion for how to make egg-free icing to hold it together. It all worked beautifully.
After I baked the house, I assembled it by piping the "frosting glue" onto the house. Sue's suggestion was to use 2 tablespoons of powdered sugar to 1 tablespoon of cream of tartar, plus a little water. I made the mistake of putting a tablespoon of water in the beginning and the frosting wasn't thick enough so I had to keep adding more sugar and cream of tartar. I ended up using 10 tablespoons of powdered sugar, 5 tablespoons of cream of tartar and 1 tablespoon of water. This made more than I needed, so I would cut it down next time and go slow on the water. But one thing is certain — it really did work like glue. It tasted horrible, but no one really eats the seams of the house anyway (and does anyone actually eat the gingerbread, or just the candy?).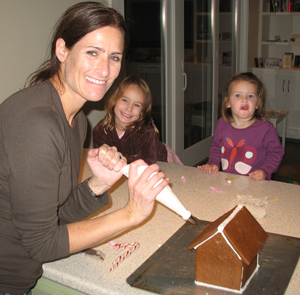 For the frosting on the rest of the house and to stick the candy, I made Pamela's vanilla frosting mix so it would be yummy when my girls were decorating and later picking off the candy to eat. Again, go slow on the liquid to make sure that it is thick enough. I highly recommend getting frosting piping bags and tips, as this makes it so much easier and more fun. We decorated the house with leftover Halloween candy that is free of the major allergens. We used Mini Sweetarts, Starburst, Jelly Bellys (no peanut butter flavor), Skittles, candy canes and mini-marshmallows.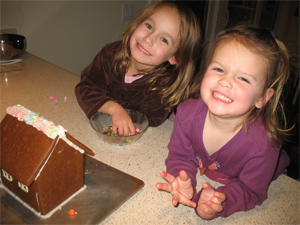 I sifted powdered sugar over the whole scene to make snow, and yippee! We did it — an allergen-free gingerbread house! This will definitely be a tradition at our house from now on.