Does chicken broth contain gluten, milk, soy? Yes.
Posted on January 8th, 2009 by Alison
Read 54 Comments - Add Your Own »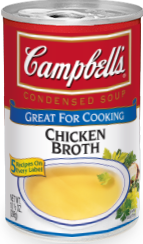 Over the holidays I was at a friend's house, snooping in the pantry, when I decided to pick up a can of that good old-fashioned red-labeled Campbell's Chicken Broth. I knew it was not gluten-free, but I couldn't remember the exact details, so I turned it over to read the ingredients.
Yuck. How could anyone a) eat it, and b) think it is in any way close to real chicken broth? I'm not sure what put me off the most: the hydrolyzed wheat gluten, the monosodium glutamate (MSG), the corn oil, or the hydrolyzed soy and corn protein. Mmmm… just like homemade!
And so I began my own little research project on commercial chicken broth, stock and bouillon. I discovered a few things:
some brands of chicken broths have gluten, milk and/or soy, and some don't
even within one brand, some products have allergens and some don't
different sizes of the same product can have different ingredients – Safeway brand actually had 3 different sets of ingredients for 3 different sizes of the same product!
Unfortunately, many restaurants use packaged "chicken bases" to make stock or broth for soups, sauces and gravies, so you have to be really careful when eating out.
Here is a list of some major brands and ingredient information (and sometimes my opinion too), as of 1/06/09. Remember, ingredients can change at any time, so always check. If you have another brand you would like to list, please do so in the comments. A ** denotes brands I highly recommend.
BETTER THAN BOUILLON
Better Than Bouillon Chicken Base
gluten-free, contains dairy and soy.
CAMPBELL'S
Campbell's Chicken Broth 14 oz. can
contains wheat and soy, plus the addition of MSG and corn oil
COLLEGE INN
College Inn Chicken Broth 99% Fat Free, all sizes
contains wheat gluten protein and soybean oil, and MSG
College Inn Chicken Broth Light and Fat Free 50% Less Sodium, all sizes
contains wheat gluten protein and soybean oil, and MSG
College Inn Flavored Chicken Broths, all sizes
contains wheat gluten protein and soybean oil, and MSG
College Inn Turkey Broth, 18.5 oz. can
contains wheat, soy, egg and milk
HERB OX
Herb Ox Sodium Free Chicken Granulated Bouillon
Herb Ox Chicken Instant Bouillon and Seasoning
gluten-free, contains dairy
IMAGINE FOODS**
Imagine Organic Free Range Chicken Broth, Organic Low Sodium Free Range Chicken Broth, Organic Chicken Cooking Stock
gluten-free, dairy-free, soy-free, all natural ingredients
KITCHEN BASICS**
Kitchen Basics Chicken Broth, 32 oz. box
gluten-free, dairy-free, soy-free, ingredients are all natural
KNORR (this is a brand used in the foodservice industry)
Knorr Chicken Select Base (dry base)
contains soy and milk, MSG
Knorr Chicken No MSG Added (dry base)
Knorr Ultimate Chicken Base no MSG,  Roasted Chicken, and Low Sodium
Knorr Ultimate Gourmet Edge Chicken Base
Knorr Chicken Bouillon
gluten-free, dairy free, contains MSG
MINOR'S (this is a brand used in the foodservice industry)
Minor's Chicken Base
contains wheat gluten, soy, milk, MSG
Minor's All Natural Chicken Base
gluten-free, contains milk
Minor's Chicken Base no added MSG, and Low Sodium no added MSG
contains wheat, soy, milk
Minor's Chicken Broth Concentrate
Minor's Roasted Chicken Broth Concentrate
PACIFIC FOODS**
Pacific Foods Natural Free Range Chicken Broth, Organic Low Sodium Chicken Broth, Organic Free Range Chicken Broth
PROGRESSO
Progresso 100% Natural Chicken Broth and Reduced Sodium, 32 oz. box
SWANSON
Swanson's Organic Free Range Chicken Broth, 32 oz. box
contains organic yeast extract, which according to the label contains wheat
Swanson's Chicken Broth 99% Fat Free, 14 oz. can
gluten-free and dairy-free, but there is a lot of crap in it, including soy lecithin
Swanson's Natural Goodness Chicken Broth 100% Fat Free Less Sodium, 48 oz. box or 49 oz. can
gluten-free, dairy-free and soy-free, not as much other stuff in it
Swanson's Chicken Cooking Stock, 26 oz. broth
gluten-free, dairy-free and soy-free, more natural ingredients that other Swanson's
SAFEWAY
Safeway Chicken Broth
contains soy protein, MSG
Safeway Chicken Broth Fat Free Reduced Sodium, various sizes
49.5 oz. can contains soy protein, 14 oz. can and 32 oz. box don't
O Brand Organic Chicken Broth, 32 oz. box
gluten-free, dairy-free, soy-free, more natural ingredients than Safeway brand
TRADER JOE'S
Trader Joe's Chicken Broth
contains gluten (barley malt)
Trader Joe's Organic Free Range Chicken Broth and Organic Low Sodium Chicken Broth