Gluten-free sugar cookie mix giveaway
Posted on February 4th, 2009 by Alison
Read 30 Comments - Add Your Own »
"Valentine's Day is just around the corner" my 4 year old told me about 10 times yesterday! Well, she's right as usual, so what better way to show my love for my readers than giving you the chance to win TWO gluten-free sugar cookie mixes so that you can make your own beautiful Valentine's Day treats!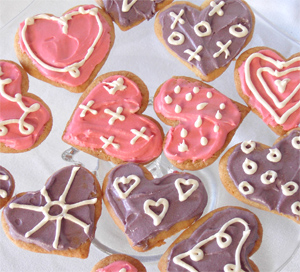 One of my favorite gluten-free mix companies is Laurel's Sweet Treats in Tigard, Oregon. Laurel makes her mixes in a dedicated gluten-free and nut-free facility. Laurel has offered to give away 2 Roll 'Em Out Sugar Cookie mixes to one lucky reader of Sure Foods Living. The picture above shows cookies that I made with her mix – they were delicious!
All you have to do to win is make a comment that answers the following question: what is a gluten-free treat that you LOVE (or LIKE if you aren't feeling so passionate)? I will start: I LOVE frozen chocolate chip cookie dough. OK, now your turn. I'm looking forward to what you all come up with!
I will randomly pick a winner from the comments and notify you via email. You have until 9 pm PST Thursday, February 5 to make a comment. Good luck!
Roll 'Em Out Sugar Cookie details:
Gluten-free and dairy-free
Easy to mix and roll out!
Ingredients: sugar, white rice flour, sorghum flour, baking soda, baking powder (sodium acid pyrophosphate, sodium bicarbonate, corn starch, monocalcium phosphate), vanilla powder (natural vanilla bean extractives, evaporated cane juice, silica, cellulose), xanthan gum.
You will need shortening (or butter) and eggs to make this mix.
If you don't win, you can order the Roll 'Em Out Sugar Cookie mix online from Laurel's Sweet Treats.
Or, try Cause You're Special's Classic Gluten-Free Sugar Cookie Mix.
UPDATE: Lisa, comment #6, is the winner of this giveaway, picked by the Random Number Generator. Congratulations!
Thanks everyone for your comments — it was great to hear about your favorite treats!