Dairy-free soy-free "butter" is here!
Posted on March 19th, 2009 by Alison
Read 121 Comments - Add Your Own »
People often come to my website to read the article about dairy-free soy-free margarine. The bottom line was that palm shortening works well for baking and making frosting, but there wasn't any dairy-free and soy-free spreadable butter or margarine — until now! I have very exciting news for the food allergy community…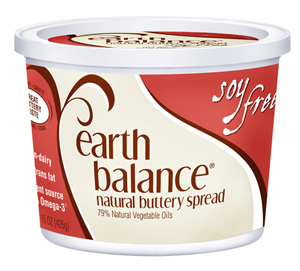 Earth Balance, known for their dairy-free vegan butter substitutes, has created a soy-free version of their buttery spread. Yes, people, there is a dairy-free soy-free "butter" that can be spread on toast and used for baking!
Recognizing that soy is one of the top 8 allergens, Earth Balance took the soybean oil out for their Soy-Free Spread, using a natural oil blend of palm fruit oil, safflower, canola and olive oils. Rickard Werner, vice president and general manager of Earth Balance® states in a press release:
"We feel that there is a great demand for alternatives to traditional spreads that contain food allergens such as soy – one of the top eight most common food allergens according to the FDA*. At Earth Balance®, we pride ourselves on providing innovative and great tasting products for people who are vegan, suffer from food allergies or those simply seeking healthy alternatives. We feel confident that our new Soy Free Spread will be a hit with all."
I'm pretty sure it will be a hit in my house. Thank you Earth Balance!
Here is what I am looking forward to:
Making a piece of gluten-free toast for my daughter with cinnamon, sugar and… "butter"!
Baking gluten-free, dairy-free, soy-free, nut-free, egg-free cookies for my daughter with… "butter"!
Here is the full ingredient list of the Soy-Free Buttery Spread:
Expeller-pressed natural oil blend (palm fruit, canola, safflower and olive), water, contains less than 2% salt, sunflower lecithin, pea protein, natural flavor (derived from corn: no msg, no alcohol, no gluten), lactic acid (non-dairy source), naturally extracted annatto for color.
Whole Foods has picked up this product nationally! Can't find it in a store near you? Request it!
UPDATE 3/30/09: Reader Chris has let me know in the comments that Earth Balance told him that the product will be coming out in May.