Gluten-Free Matzoh and Matzo Ball Soup
Posted on March 26th, 2009 by Alison
Read 3 Comments - Add Your Own »
Looking for gluten-free Matzoh? Want to make gluten-free Matzoh Ball Soup?
Here are some resources to help you with a gluten-free Passover!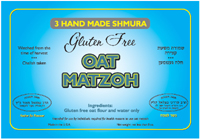 MATZOH
Gluten-Free Oat Matzohs can be ordered from:
Or, make your own gluten-free matzo with help from Ellen at I Am Gluten Free:
MATZOH BALL SOUP RECIPES:
More suggestions? Let us know in the comments.