Is spelt safe for a wheat-free or gluten-free diet?
Posted on March 11th, 2009 by Alison
Read 23 Comments - Add Your Own »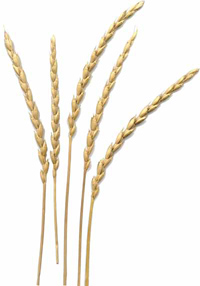 Many people believe that if you can't eat wheat, then it is okay to eat spelt. It is said that spelt is easier on the digestive system than wheat and so it has been called a "wheat alternative." Spelt products, including bread, were even labeled as "wheat-free" prior to 2006. What happened in 2006? That's when the Food Allergen Labeling and Consumer Protection Act (FALCPA) took effect and food manufacturers were required to list the top 8 allergens on their labels. As a result, products using spelt and kamut had to put "wheat" on the label. Why? Because they are wheat!
Spelt is an ancient grain that is a sub-species of wheat. People who are allergic to wheat probably cannot tolerate spelt and should avoid it, although some wheat-intolerant people say that they are able to tolerate spelt.
People with celiac disease or gluten intolerance should NOT eat spelt (also known as "farro" or "dinkel") because it contains GLUTEN. Same goes for Kamut, triticale, emmer and einkorn — all of these are cereal grains that have been marketed as "wheat alternatives." All are in the wheat genus, however, and have biological names starting with "triticum," the Latin word for wheat.
So, bottom line, if wheat is off-limits for you, then it's best to stay away from spelt!
Read more about the gluten-free diet.