Spinach smoothies that you and your kids will love!
Posted on March 5th, 2009 by Alison
Read 13 Comments - Add Your Own »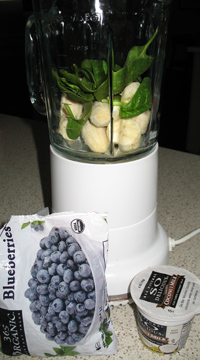 I didn't believe it when someone first suggested to me to put raw spinach in a smoothie — and that my kids would like it. It took me a year to actually try it. Well, guess what? It really does work — you can't even taste the spinach!
At first I hid the fact that I was putting it in, thinking they wouldn't like it just because they saw the green leaves, but they caught me and I had to confess. I told them what it was and that it makes the smoothies extra yummy and makes kids extra strong. To my surprise, they thought that all made good sense and now take turns putting the leaves in the blender!
Be aware that the spinach can greatly affect the color of the smoothie. The first time I tried it, I found out that red strawberries and green spinach make an unappetizing brown color. I quickly found that blueberries make any smoothie a beautiful and delicious purple!
Here is my rough recipe for 1 adult-sized or 2 kid-sized allergen-free smoothies. Really, you can put in anything you want — just wing it, but these are some suggestions.
Yummy Smoothie with Spinach
1-2 ripe bananas (or ones that you have frozen)
a handful of spinach leaves (I buy the already-washed organic baby spinach that comes in a package)
about 1/2 cup frozen blueberries (frozen ones are cheaper, plus this is what makes the smoothie cold and icy without having to add ice)
any other fruit you if you want to add, fresh or frozen (note that raspberries will make little seeds in the smoothie — my girls don't like them)
half of a small yogurt, or more if you like (I use dairy-free soy-free coconut milk yogurt)
a dash of liquid, either milk (dairy or non-dairy) or any kind of juice
Blend all ingredients. If the smoothie is too runny, add more banana and/or frozen stuff or ice. If you are having trouble getting it to blend, you need to add more liquid — just a little at a time.
Make sure you have straws on hand and your little ones will love it any time of the day! It makes a great nutritious snack for grown-ups too.