Think outside the Celiac Box
Posted on April 15th, 2009 by Alison
Read 24 Comments - Add Your Own »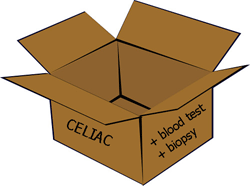 I am 1 person in 100 that made it into the Box. The Celiac Box, that is. I have Celiac Disease. That gives me credibility. That makes my being on a gluten-free diet valid. The 99 of you who didn't qualify to be in the Celiac Box? Your stories about feeling better on a gluten-free diet are questionable, doubtful even. If you're not in the Celiac Box, you don't need to be on a gluten-free diet — and why would you deprive yourself? You probably just have Irritable Bowel Syndrome or a parasite or something. You are not in the Celiac Box — now go eat a piece of pizza, take a purple pill, and quit complaining!
Celiac Disease affects approximately 1% of the population. There are genetic markers that can tell if someone is predisposed to developing it. There are studies that link celiac disease to many other health problems, such as osteoporosis, anemia, even neurological diseases such as schizophrenia. There are tests for celiac disease and if you test positive, then you've got a disease and the gluten-free diet isn't just something you're trying on a whim — you have been diagnosed and a gluten-free diet is your medically prescribed treatment.
And if you test negative for celiac disease? Well, then, you don't have it. You become part of the 99% of people who don't have it. You feel better on a gluten-free diet, you say? Go ahead, be on a gluten-free diet, but it's not necessary, because you don't have celiac disease. Unfortunately, these are often the last words that a patient hears from his doctor after testing negative for celiac disease.
Listen up, people: It is time to THINK OUTSIDE THE CELIAC BOX!
To be diagnosed with celiac disease, you must meet strict testing criteria which includes visible damage to the intestine (from samples taken during biopsy). If it's not visible, or if the person checking simply misses it, there is no diagnosis. NO DIAGNOSIS. Because doctors don't have a way to confirm that gluten is harming someone without visible damage to the intestines. The person doesn't fit into the Box.
So if it's not celiac disease, what is it? Here are some reasons a person could test negative for celiac disease, but still could benefit from a gluten-free diet:
Blood tests can be falsely negative.
There are people who test negative but actually have the disease. This could be due to the fact that the person is not eating much gluten already because he knows that it makes him feel bad. Not eating enough gluten can produce a false negative on the blood test. If the person had been eating a lot of gluten, the test result may have been positive.
A person could be "pre-celiac" or have "latent celiac disease."
There are some people who test negative on a blood test now, but positive later after more damage is done. According to Dr. Peter Green in his book Celiac Disease, A Hidden Epidemic, this situation may be seen in younger children and young adults who have negative blood tests but develop celiac disease later in life.
A person could have "non-celiac gluten sensitivity (NCGS)", "non-celiac gluten intolerance", "gluten sensitivity", or "gluten intolerance."
These terms all refer to the same idea, that a person could be reacting to gluten without having the specific type of damage attributed to celiac disease. The reactions could be the same and as strong as those seen in people with celiac disease, however. This is an area that currently is not in the mainstream medical thought. This is outside the Celiac Box.
I believe strongly that we need to start looking at gluten sensitivity as a spectrum, with celiac disease at the extreme. I realize the difficulty that doctors face when there are no reliable, accepted, mainstream tests for gluten sensitivity (yet), but it should also be recognized that the celiac tests are not reliable for those that don't fit into the Celiac Box.
It should be acknowledged that non-celiac gluten sensitivity exists and that it has the same treatment as celiac disease: a 100% gluten-free diet. By not being informed of the existence of gluten sensitivity, people are being denied a treatment that works and are becoming dependent on drugs to mask their symptoms rather than treat the cause of their ill health.
In my family, I am the only one who was diagnosed with celiac disease, yet besides me, there are 8 people who are on a gluten-free diet. None were advised by their regular doctors to do the diet. 6 of them tested negative on the traditional celiac blood tests. Of those 6, 2 had a biopsy anyway and still tested negative for celiac. 2 people never took any celiac blood tests at all. ALL of them feel dramatically better on a gluten-free diet. ALL of them have had their health problems — gastrointestinal, neurological and behavioral — reversed on a gluten-free diet. NONE of them want to ever eat gluten again. Now, I ask you, where are my family members in the celiac statistics?
There are several doctors out there who are working to make it known that gluten is a bigger problem than anyone realizes, and that perhaps as much as 10-40% of the population is actually gluten sensitive. I hope that their research and messages will soon be widely recognized so that people can stop being sick. I highly recommend reading their books and websites:
Related reading:
Is the gluten-free diet torture?
Progress in treatment and screening for celiac disease
Blood tests are not the final say
Non-Celiac Gluten Sensitivity