Ice Cream Cookie Sandwich – gluten-free, dairy-free, egg-free
Posted on May 21st, 2009 by Alison
Read 2 Comments - Add Your Own »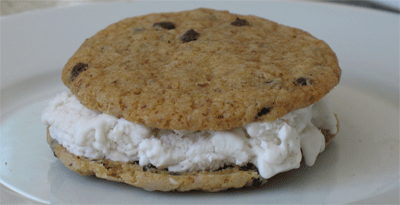 "Enjoy it, Mom. Don't eat it so fast."
Those were the wise words of my 4 year old as I wolfed down my ice cream sandwich — a special treat we made for my birthday last weekend. To hear her echo those words of mine put a huge smile on my face, because even though our diets are limited by my celiac disease and her food allergies, I have tried to instill in her an appreciation for food, to taste it and enjoy it. But I mainly smiled because it was just so darn cute!
Anyway, enough of the chatter you say! Get to the sandwich! Okay, okay…
But first, for those of you who don't know Babycakes Bakery in NYC, it is a very hip, mostly-gluten-free,  vegan (so no dairy or eggs) bakery with delectable treats that even non-gluten-free and non-vegan people love. Erin McKenna, the founder of Babycakes, recently came out with a cookbook and appeared on Martha Stewart and shared her recipe for Chocolate Chip Cookie Sandwiches with Vanilla Frosting.
I had been wanting to try this recipe, and finally decided to make it on my birthday… but the thought of baking when it was 95 degrees outside wasn't too appealing — unless it ended up being an ice cream sandwich! So we skipped the frosting and opened the freezer instead.
The cookies are delicious. Really. And so easy. This will be my go-to recipe for gluten-free dairy-free egg-free chocolate chip (or any other add-in) cookies from now on. The recipe can be found on Martha's website here: Babycakes Chocolate Chip Cookies. I have some tips of my own for making these cookies:
You have to melt the coconut oil and then let it cool, as the recipe states. The coconut oil takes a looong time to cool, so definitely do this step first, ahead of time. Especially if you are making the cookies with kids who are waiting patiently (ha ha) to eat some dough. I ended up putting it in the refrigerator for a while.
The cookies flatten out a lot — at least mine did. Make sure you space them out enough.
The recipe makes a lot of cookies. It says it makes 24, but I made about that many and had dough left over. It is now in my freezer, ready to be made into more cookies, added to ice cream, or eaten frozen by the spoonful right out of the bag (who me?)
I used Enjoy Life chocolate chips, which are mini. I love these chocolate chips, but I think next time I would use a regular size chip, or more of the minis.
I cooked mine for longer than the recipe stated — obviously each oven is different, but these are soft cookies that stay soft, so you might want to cook longer if you want them to be more crispy.
Like I said, I didn't make the frosting (recipe here: Vanilla Frosting), but put ice cream in them instead. I am kind of obsessed with coconut milk ice cream these days, and highly recommend putting either Coconut Bliss Vanilla Island or Purely Decadent made with Coconut Milk Vanilla Bean. My husband prefers good old Haagen Dazs Vanilla — that works too!
And remember: Enjoy it. Don't eat it so fast!