Gluten-free 4th of July and other food allergy tips
Posted on June 30th, 2009 by Alison
Read 4 Comments - Add Your Own »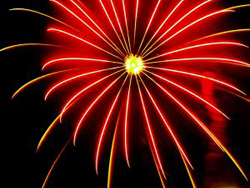 Getting ready for a gluten-free 4th of July? Need to be allergy-free this Independence Day? Here are the answers to your questions about avoiding gluten, dairy or other allergens this holiday…
Does barbecue sauce contain gluten?
Barbecue sauce may contain gluten, which is why it is so important to check the label or the recipe before eating it. Here are some ingredients to watch out for:
Some barbecue sauces contain gluten from barley in the form of beer or malt.
Some barbecue sauces contain soy sauce, which contains wheat.
Many barbecue sauces contain Worcestershire Sauce, which could contain gluten. Lea and Perrins brand Worcestershire Sauce is gluten-free, while Annie's Naturals Worcestershire Sauce is not.
Some sauces contain mustard, which could contain gluten. Some mustards contain beer or wheat flour, so be sure to check the brand of mustard being used. (Mustard flour is gluten-free.)
Most sauces contain ketchup, which should not be a problem because the major brands of ketchup are gluten-free.
Which brands of barbecue sauce are gluten-free (dairy-free, soy-free)?
The number of barbecue sauces on the shelves is overwhelming but here is some information to guide you:
Daddy Sam's is gluten-free and free of all top allergens. It is spicy and delicious!
Bone Suckin' Sauce is gluten-free and free of all top allergens. It's got a sweetness along with a spiciness that is so good.
Sweet Baby Ray's Barbecue Sauces are both gluten-free and dairy-free. I haven't tried them yet, but I have read good things!
Annie's Naturals barbecue sauces are gluten-free and dairy-free. Sweet & Spicy Barbecue Sauce is also soy-free.
Any Kraft and Nabisco products will list ingredients that contain gluten (in addition to the required top 8 allergens) on the ingredient statement. These items will be listed using commonly known terms such as Wheat, Barley, Oats or Rye. This includes Bull's Eye Barbecue Sauce and Kraft brand barbecue sauces.
Avoid KC Masterpiece Barbecue Sauces unless you can be sure from the ingredient list that they are gluten-free. They must legally list wheat on the label but they do not have a policy about listing other gluten-containing ingredients.
Can I make my own barbecue sauce?
Yes, of course! It's really pretty easy. Go ahead and search the web for barbecue sauce recipes and you will find a whole bunch. Or, you can try Elana's recipe for gluten-free dairy-free bbq sauce.
Do hot dogs contain gluten and/or dairy?
Hot dogs and sausages could contain gluten and dairy. See my list of gluten-free and dairy-free hot dogs and sausages!
What do I do about buns?
Some specialty gluten-free bakeries like Mariposa Baking Company, The Sensitive Baker, and The Grainless Baker make buns, but generally gluten-free hot dog buns and hamburger buns aren't easy to find. Some stores are now carrying Kinnikinnick brand hamburger and hot dog buns, which are gluten-free and dairy-free. But my favorite buns are the ones I make myself… and you can too!
You can use any gluten-free bread mix to make hamburger or hot dog buns. You just need molds to shape them. For hamburger buns, English Muffin rings work really well and are easy to use. If you don't have them, you can form your own molds out of aluminum foil. I did this using Pamela's Gluten-Free Bread Mix. You can see exactly how to do this and the results in my article: A gluten-free hamburger bun = happiness.
I have made hot dog bun molds out of aluminum foil and they also turn out great. My advice is to make the molds skinny — mine turned out a little too big. I followed the bread directions, filled my molds and let them rise. I sprinkled sesame seeds on before baking and baked until they were done (normally the bread I was using takes 60 minutes, so I think I baked them for 30 or 40, but it depends on the size of the buns). The result was a soft, not crumbly, bread-y bun.
Can I eat potato salad?
Potato salad is usually safe for gluten-free people and even dairy-free people, but if you are allergic to eggs or soy, avoid traditional potato salads as they are made with mayonnaise containing eggs and soybean oil. (Mayonnaise does not usually contain dairy even though it is white and creamy!)
If you need a potato salad recipe, Kalyn of the blog Kalyn's Kitchen, posted a nice summary of potato salad recipes, including ones that don't contain mayonnaise!
What about dessert??
Here's the easiest red, white and blue dessert ever: vanilla ice cream (can use non-dairy), topped with strawberries and blueberries.
If you are looking for something a little more creative, make a delicious Peach Crisp or an Apple Pie. Or how about an Ice Cream Cookie Sandwich?
Need easy treats for the kids (or yourself)? Check out the Allergen-Free Summer Treats Guide.
Wishing you a safe holiday!