Back to school cookies (gluten-free, dairy-free, egg-free!) – and a GF Flour giveaway
Posted on September 8th, 2009 by Alison
Read 39 Comments - Add Your Own »
My daughter is in her second week of Kindergarten and already there have been four birthdays in her class, which means four days of treats that she can't eat! I'm realizing that elementary school is a whole different world than preschool when it comes to food. It seems to be everywhere. Part of me feels nervous. Can I trust everyone to remember not to give her the birthday treat? Can I trust her to always say no? Part of me feels sad for her that she feels left out.
"I wish I didn't have food allergies," she told me last night.
"I wish I didn't have any either," I said.
I can't grant her wish, but I can offer her alternatives that are delicious and safe for her. I have supplied a "snack box" in her classroom — a plastic storage container with her name written on it filled with packaged allergy-free cookies and fruit bars — in case of a treat emergency. But we also have a deal: if other kids got something special in class that day that she couldn't have, then she gets to have something special when she gets home. Homemade cookies always do the trick! And a good old chocolate chip cookie can also turn into an ice cream sandwich or a frosted delight!
Making gluten-free cookies from scratch doesn't have to be difficult, even if you have other food allergies too, like we do. Using a pre-made GF flour blend makes it especially easy. There are many on the market, but I recently tried Namaste Foods' Perfect Flour Blend to make gluten-free oatmeal chocolate chip cookies, and they were perfect! Now you can make them too, using the recipes below.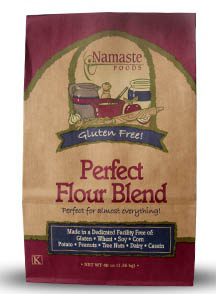 Namaste Foods is going to give away a package of Perfect Flour Blend to three lucky winners! All you have to do to enter is make a comment on this post saying what you would like to make using the Perfect Flour Blend. Three winners will be chosen at random (one comment per person please). Contest will end on Monday, September 14 at noon PST.
According to the package, "Namaste's Perfect Flour Blend has been designed with ease, efficiency and all your favorite recipes in mind. Simply replace the wheat flour in your everyday recipe with the same amount of our flour blend then follow the directions in the recipe. Namaste's Perfect Flour Blend will work with almost any recipe in your everyday cookbook. (Obviously, results may vary with more sophisticated recipes.)"
Ingredients: Sweet brown rice flour, tapioca flour, arrowroot flour, sorghum flour and xanthan gum. (Namaste Foods uses xanthan gum that is not derived from corn or corn sources.)
Here is the recipe for the cookies I made using the recipe from the Perfect Flour Blend bag with some substitutions and additions:
Gluten-Free Dairy-Free Egg-Free Oatmeal Chocolate Chip Cookies
Ingredients:
1/2 cup Earth Balance Dairy-Free Soy-Free Natural Buttery Spread, softened (you can also use oil, butter or margarine)
1/2 cup brown sugar, packed
1/4 cup sugar
Ener-G Egg Replacer for 1 egg (or use 1 egg if you have no egg allergies)
1/2 teaspoon vanilla
3/4 cup Namaste Foods Perfect Flour Blend
1/2 teaspoon baking soda
1 1/2 cups gluten-free oats (I use Cream Hill Estates Lara's Rolled Oats)
1/2 teaspoon cinnamon
1/4 teaspoon salt
1 cup raisins or chocolate chips, or 1/2 cup of each
Directions:
1. Cream together "butter" and sugars until smooth. Add egg replacer (or egg) and vanilla and mix until combined. Add dry ingredients and mix thoroughly.
2. Drop by rounded tablespoons onto lightly greased cookie sheet. If the batter seems a little crumbly, just press it together to hold its shape. It will hold together when it cooks.
3. Bake at 350 degrees F for 10-12 minutes or until lightly golden brown. Let cool for 5 minutes, then move to wire rack and continue cooling. Makes about 2 dozen cookies.
The recipe below was sent to me by Michele, the creator of Namaste Foods.
Gluten-Free Chocolate Chip Cookies
Ingredients:
1 cup butter or non-dairy butter, softened
1 cup white sugar
1 cup packed brown sugar
2 eggs
2 teaspoons vanilla extract
3 cups Namaste Perfect Flour Blend
1 teaspoon baking soda
2 teaspoons hot water
1/2 teaspoon salt
2 cups semisweet chocolate chips
1 cup chopped walnuts (optional)
Directions:
1. Preheat oven to 350 degrees F (175 degrees C).
2. Cream together the butter, white sugar, and brown sugar until smooth. Beat in the eggs one at a time, then stir in the vanilla. Dissolve baking soda in hot water. Add to batter along with salt. Stir in flour, chocolate chips, and nuts. Drop by large spoonfuls onto greased pans.
3. Bake for about 10 minutes in the preheated oven, or until edges are nicely
browned.