Gluten-free cookbook giveaway
Posted on November 30th, 2009 by Alison
Read 83 Comments - Add Your Own »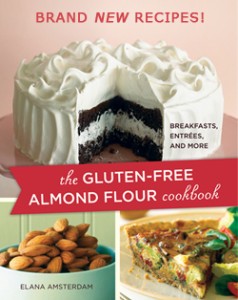 Just in time for the holidays, you can win a copy of
The Gluten-Free Almond Flour Cookbook by Elana Amsterdam! I met Elana at a blogger conference a few months ago and she has donated signed copies of her book to my readers.
The recipes in this cookbook are diverse — muffins, scones, crackers, chicken fingers, entrees, pie, cake and more. All use almond flour, are gluten-free and grain-free. Almond flour has a low glycemic index and is high in protein and fiber, making it ideal for people with celiac disease or gluten intolerance, diabetes, and anyone looking to vary their diet.
Here's how you can win:
Just make a comment on this post telling what your favorite holiday treat is (or was!). I will choose three winners at random. You have until Friday, December 4 at 5pm PST to comment (only one comment per person please).
Thank you Elana for this wonderful cookbook!