Mariposa's gluten-free baked goods coming to SF!
Posted on November 5th, 2009 by Alison
Read 2 Comments - Add Your Own »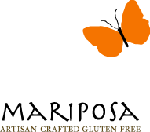 That's right folks! Mariposa Baking Company, the delicious dedicated gluten-free bakery of Oakland will soon sell their fresh, artisan-crafted gluten-free baked goods in San Francisco's Ferry Building!
Starting in mid-November 2009, look for their kiosk where you will be able to find bread, biscotti, muffins, bagels, baguettes, ravioli and pizza — all gluten-free!
I may be taking a ferry ride verrry soon…