Thanksgiving gluten-free and food allergy tips
Posted on November 14th, 2009 by Alison
Read 5 Comments - Add Your Own »
Are you ready to navigate Thanksgiving with celiac disease, gluten intolerance or food allergies? Need some help? Here are some tips about those traditional Thanksgiving dishes to help you get through this food-centered holiday!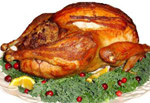 THE TURKEY
Turkey by itself is naturally gluten-free, of course, but turkeys that are prepared for roasting may have added gluten. Be sure to check labels for "wheat" (which must by law be declared on a label) or for "natural flavorings" (which could have hidden sources of gluten). And definitely steer clear of those gravy packets that come with some turkeys — they are sure to contain wheat flour.
THE GRAVY
Gravy is almost always thickened with wheat flour. To make a gluten-free gravy, use sweet rice flour (also known as mochiko), cornstarch, arrowroot powder/starch or tapioca flour. Be sure to mix any of these with a little water or broth before whisking into the gravy.
Gravy can also contain dairy, as many people like to add butter, milk or cream.
THE STUFFING
Stuffing is made with bread (and therefore, gluten) — no wonder everyone feels stuffed afterword! Gluten-free stuffing is just as easy to make and you won't have to unbutton the top of your pants after you're done!
Try this recipe for gluten-free dairy-free stuffing that I have made many times.
Or, try this easy gluten-free bread stuffing recipe from Whole Foods using their gluten-free bread.
Or, if you like cornbread stuffing, make gluten-free cornbread with Pamela's Cornbread and Muffin Mix and then use it in any old cornbread stuffing recipe and voila! Everybody will LOVE it! There's even a recipe for Southern Cornbread Dressing on the bag of cornbread mix, and Karina's got a new yummy-looking gluten-free cornbread stuffing recipe too.
For those with egg allergies, watch out for the bread in the stuffing since it could contain eggs. Some stuffing recipes call for eggs to be added to the entire stuffing mixture.
For those with nut allergies, watch out for chestnuts, and other tree nuts, which are very commonly used in stuffing.
THE MASHED POTATOES
No worries about gluten in mashed potatoes (usually), but they often contain dairy — people add butter and sour cream to make them creamy. Want to make your own creamy mashed potatoes? Try this creamy dairy free mashed potatoes recipe or this allergy free mashed potatoes recipe.
Mashed sweet potatoes or sweet potato gratin dishes also usually contain dairy due to the added butter. And if your family has served that weird sweet potato dish with marshmallows on top (mine has), watch out for pecans you have a nut allergy.
THE PIE (I'm talking pumpkin of course!)
I have never been a fan of pumpkin pie, but it is good to know that I wouldn't have to give it up if I did like it! The "regular" ones contain wheat of course, but there are a lot of great gluten-free and dairy-free pumpkin pie recipes out there:
Dairy-free, soy-free, gluten-free pumpkin pie recipe from Go Dairy Free
Crustless gluten-free pumpkin pie from gfe — gluten-free easily
Gluten-free dairy-free egg-free pumpkin pie from Karina's Kitchen
Not a baker?
Get your hands on a gluten-free dairy-free pumpkin tart from Crave Bakery or a Whole Foods Bakehouse pumpkin pie.
Well, I hope this helps a little, and remember:
The day is not just about the food, so give thanks for what you HAVE in your life, rather than dwelling on what you don't! Happy Thanksgiving, and feel free to add more recipe ideas and tips in the comments!