There's a new gluten-free bread in town! Udi's.
Posted on November 3rd, 2009 by Alison
Read 7 Comments - Add Your Own »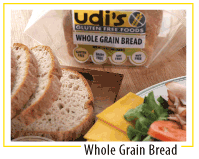 The best store-bought gluten-free bread? Hands down, it's Udi's. When my cousin's son Reed came back from Camp Celiac (more on this in a future post), he declared that the best food at the camp was the grilled cheese sandwiches. Now this is a statement, considering that he was eating  dairy-free rice cheese, but the fact that it was served on Udi's gluten-free bread made it tops in his book!
I was lazy about ordering it online to try it for myself, but lo and behold, it showed up in my Whole Foods recently. And I must say that the 13-year-old was right — it is delicious. I have now tried both the Whole Grain Bread and the White Sandwich Bread. I much prefer the Whole Grain Bread but there are probably many people that would like the White Sandwich Bread just as much. The bread is made to be eaten NOT frozen, NOT refrigerated, which is how I ate it, but it depends on where you live and how it is shipped and stored. Of course, like all gluten-free breads, just toast it and it tastes even better.
If you can't yet find it in a store near you, you can order online at Udi's Gluten Free Foods.