Grandma Anne's Butterhorns, gluten-free and dairy-free
Posted on December 6th, 2009 by Alison
Read 6 Comments - Add Your Own »
This recipe is the first stop of the Gluten Free Dessert Progressive Dinner Party!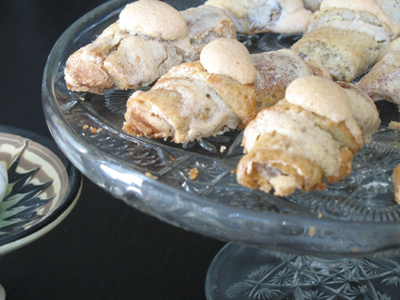 When I think about my Grandma Anne, a smile always come to my face. I picture her sitting at her kitchen table, holding a hand of cards, playing gin rummy. She was tall, with thick white-gray hair, and if you took too long to decide what card to play, she would prod you with a snappy "Today!" She had a dry sense of humor (which I'm pretty sure is genetic), and had some memorable sayings, such as "Here's your hat — what's your hurry?"
I have memories of food also. I remember her making some traditional Jewish dishes like brisket and matzoh ball soup, and I remember thinking a little cup of jello with fruit chunks was the best thing ever! And then there were the Butterhorns — rolled little pastries with dollops of meringue. We knew these Butterhorns so well, but nobody has made or eaten them since Grandma Anne passed away many years ago.
I wasn't sure if I could recreate her recipe to make it gluten-free, but I took on the challenge for the Gluten-Free Progressive Dinner Party (see below!). I had a wonderful time doing it and I am so pleased with the results.  It makes me happy to carry on her memory with this gluten-free adaptation of her Butterhorns! I hope you enjoy them.
INGREDIENTS
Dough:
2 cups Pamela's Gluten-Free Bread Mix*
1 package active dry yeast (2 1/4 teaspoons) – you can use the packet included in Pamela's Bread Mix
4-5 teaspoons sugar (if you like less sweet, use 4)
1 cup shortening (I use Spectrum Palm Shortening)
2 eggs yolks, well beaten
* I chose to use Pamela's Gluten-Free Bread Mix rather than mix my own flours because I liked the blend of flours in the mix and thought they would work well for this recipe (why reinvent the wheel?) Pamela's bread mix contains sweetener, salt and xanthan gum. If you want to use another gluten-free flour blend, you may want to increase the sugar to 2 tablespoons, add 1 teaspoon salt, and a teaspoon of xanthan gum. I have not tried this recipe with other blends.
Filling:
2 egg whites
1/2 cup sugar
cinnamon
chopped walnuts, other nuts, fruit or any other filling are optional (I didn't use any nuts due to my daughter's nut allergy, but my grandmother used walnuts)
DIRECTIONS
Dough:
Combine yeast with 1/4 cup warm water and set aside.
Combine Pamela's Bread Mix flour with the sugar (and salt, if using own GF flour blend)
Cut shortening into flour, using 2 knives or a pastry cutter until the shortening is the size of peas or smaller.
Add beaten egg yolks to the dough and mix well.
Add yeast and water to the dough and mix well.
Divide dough into 3 equal balls.
Roll out each ball into a 9 inch circle, using wax or parchment paper on the bottom and top to prevent sticking while rolling. You may want to flour the bottom paper a little to prevent sticking.
Cut the circle into 8 equal pie-shaped wedges.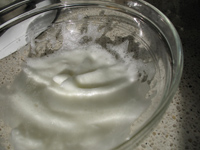 Meringue Filling:
Beat the eggs whites until they form soft peaks. You can do this with a whisk and a medium sized bowl — turn the bowl with one hand while vigorously (but with a loose wrist) whisking the egg whites.
Add the sugar to the soft peaks and whisk vigorously again until thick and spreadable.
Spread the egg white & sugar mixture (meringue) on the rolled out dough.
Sprinkle with cinnamon (I used a sifter), however much you want!
Add chopped nuts, if desired.
Roll 'Em Up and Bake Them
Roll each pie-shaped wedge from the outside in. If the dough sticks to the paper, just loosen with a spatula. Place on a greased cookie sheet.
Spoon a small dollop of meringue on the top of each roll.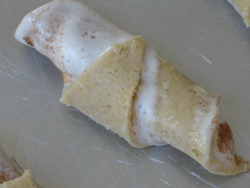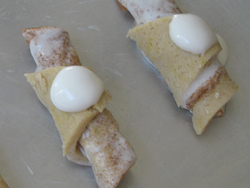 Let the rolls rise until doubled in size, about 45 minutes to an hour. If you're not sure whether the dough doubled or not, don't worry about it! Just move on to #4.
Bake in a 350 degree oven for about 20 minutes, or until meringue is light brown.
Remove rolls from baking pan right away and let cool.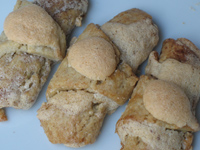 This recipe is the first stop of the Gluten Free Dessert Progressive Dinner Party!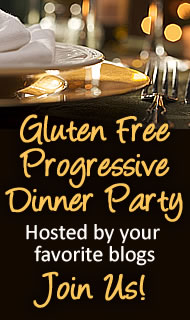 Each day this week you'll find new gluten free desserts being "served" by other bloggers.  Follow the schedule as you would a map through a neighborhood.  Stop by, leave a comment, pass on the information to your friends and have a wonderful time!
Here is the schedule (I will fill in with links to the posts each day so please check back):
Monday December 7th: Baked Desserts
Me at Sure Foods Living
Ali at The Whole Life Nutrition Kitchen
Tuesday December 8th: Frozen or Chilled Desserts
Shirley at gfe gluten free easily
Diane at The W.H.O.L.E. Gang
Wednesday December 9th: Chocolate Desserts
Karen at Cook4Seasons
Ali at The Whole Life Nutrition Kitchen
Thursday December 10th: No-Bake Desserts
Diane at The W.H.O.L.E. Gang
Friday December 11th Favorite Desserts
Melissa at Gluten Free For Good
Jean at Gluten Free Organics
You might also enjoy:
Gluten-free gingerbread house recipe (dairy, soy and egg-free too!)
Gluten-free funny Christmas video