Food allergies in college
Posted on February 26th, 2010 by Alison
Read 7 Comments - Add Your Own »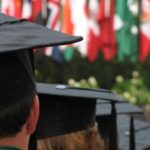 I went to college with no dietary restrictions. I ate in the dining hall, free to choose whatever I wanted. There is enough to think about in college without having to worry about food allergies. I can't imagine how hard it must be for young adults today who have to manage their diets in addition to everything else.
The number of teenagers with food allergies entering college is on the rise. And according to a study done by the Journal of Allergy and Clinical Immunology, students with potentially life-threatening food allergies are at an increased risk for having severe reactions on college campuses. The good news is that colleges and universities are becoming better prepared with food allergy action plans, accommodations and better food choices for students.
An article is USA Today, "Colleges accommodate more students with food allergies", highlights some of the ways students' needs are being met.
A wonderful resource for college kids with food allergies is the Food Allergy and Anaphylaxis Network (FAAN). Their FAAN College Network has a great list of Frequently Asked Questions for young adults entering college, and a database search of colleges and their "Food Allergy Approach."
FAAN also has a website dedicated to teens with food allergies, www.FAANTeen.org.
Kids with Food Allergies has an article called Allergies and College Life with advice from a student who went through the process herself. One of her main points, which is a great one, is to plan early.
If anyone has tips for attending college with food allergies, please share them!